More than a fifth of shareholders opposed the reappointment of Philip Aiken as a director
Almost a quarter of Balfour Beatty shareholders have opposed the reappointment of the firm's outgoing chair as a director amid concerns about a lack of diversity on its board.
The reappointment of Philip Aiken was opposed by 22.01% of shareholders at the annual general meeting last Friday.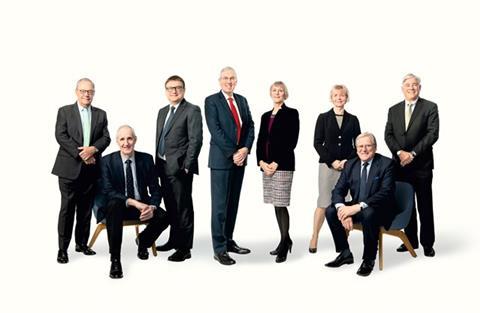 In a statement to the stock exchange Balfour Beatty said: "The board notes the result of this resolution which we understand has arisen due to concerns about board diversity.
"We engaged widely with shareholders during the year and will continue to do so. We will publish an update on this engagement, in accordance with the UK corporate governance code, within six months of the 2021 AGM."
Ahead of the AGM it had been confirmed that Lord Charles Allen, the former chief executive of ITV, had been appointed as Balfour's new chair.
Allen, who was also an executive chair of EMI Music, will take over from Aiken in July. The current chair joined the country's biggest contractor in March 2015, two months after chief executive Leo Quinn started.
Their arrivals were part of a management rejig at the business following a series of losses on dozens of contracts that sent the firm to a £304m pre-tax loss in 2014.
The board is currently made up of six men and two women. Anne Drinkwater and Barbara Moorhouse are the female non-executive directors.
Balfour Beatty said in its 2020 annual report that it recognised the need to increase both gender and racial diversity at board level. It said: "The board recognises that it does not currently meet the target set by the Hampton-Alexander Review and will aim to enhance the diversity of its board through ongoing succession planning.
"The board further acknowledges the Parker Review directing that boards of FTSE 250 companies should have at least one director from an ethnic minority background by 2024 and also aims to address this through future succession planning."
The Hampton-Alexander Review recommended that 33% of FTSE 250 firm boards should be made up of women.
Balfour did not hit this figure across its wider senior leadership team either. That group, which is made up of the executive committee and their direct reports excluding administrative assistants, features 33 women and 91 men, meaning that women make up 26.6% of the team.
Over the business as a whole the country's biggest contractor did see its median gender gap narrow in its latest report, but said the figures that saw women paid 82p for every £1 it paid men were driven by the pandemic.
The firm said: "As a result of operational restrictions, allowances paid to employees working on project sites were temporarily stopped during the period, reducing their earnings and bringing them closer to their base pay levels. Due to the gender profile of employees undertaking these roles, this affected more male employees than females."
According to the data, which is a snapshot from 5 April 2020, women occupied just 14% of the best-paid jobs and 29% of the lowest-paid jobs. They were most greatly represented in the bottom quartile.