Contractor's share price continues to fall following profit warnings, with firm's market cap sinking lower than the estimated value of its PPP portfolio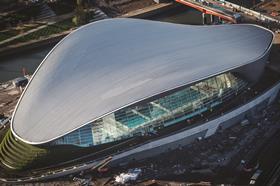 Balfour Beatty was hit by fresh woe this week as the troubled contractor's share price fell to a new low and its market value sank beneath the estimated value of its portfolio of PPP assets.
Balfour Beatty's share price continued to fall this week, down to 152p on early trading this morning, its lowest price since 2003, and down 32% since the firm issued its fifth profit warning in less than two years at the end of September.
Balfour's shareprice has fallen 50% since its first profit warning in November 2012 and 70% since its peak in 2007.
The £10bn-turnover construction giant's market cap has now sunk to £1.05bn - down from the £1.3bn it fell to following the £75m profit warning last month and around half the price at which Carillion valued the business in its merger offer over the summer, which was rejected by Balfour in August.
The current market cap is below the level of the firm's PPP asset portfolio - before the recent disposal of its 50% stake in a West Yorkshire PFI hospital - which the firm revised up by 46% to £1.1bn in August.
Stephen Rawlinson, analyst at Whitman Howard, said he thought the firm's revised estimate of the value of its PPP assets was still "highly conservative … which makes the current valuation of the trading operations less liabilities even more stark".
He added: "Our belief is that Balfours is probably getting a bad response in the debt and bonding markets as well as facing difficulties from customers, employees and suppliers and those factors are transmitting through to the share price.
"While the debt and bonding are financial issues they will, most likely, have a negative impact on trading such that current guidance for this year may be optimistic."
Balfour Beatty is still with out a new group chief executive, following the departure of Andrew McNaughton in May, and is still in the process of selling consultant arm Parsons Brinckerhoff for £820m to WSP.
Rawlinson warned that unless there was "a swift injection of cash and long-term leadership [Balfour's] position might get out of control".
"Balfour Beatty needs cash urgently to shore up trading, pay the bills to ensure it completes projects as near as possible to time and quality," he said.
"The appointment of a new chief executive is said to be well advanced but there are few clues on precise timing of an announcement and the date of arrival of the new person - new leadership is needed as it is known that [executive chairman] Steve Marshall's intention is to leave.
"The management team has possibly engineered itself into a spiral of decline which just may get out of control even before the new chief executive arrives.
"In Balfour's case it has the assets to prevent the decline but it may not be able to realise them as urgently as the trading position necessitates."