Construction giant confirmed as contractor on public sector body's infrastructure framework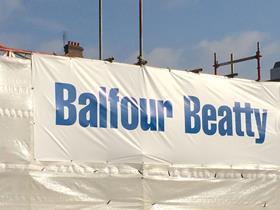 Balfour Beatty has confirmed it has been appointed to deliver public sector procurement body Scape's £1.5bn infrastructure framework, as first revealed by Building.
Balfour's newly-appointed chief executive Leo Quinn said he was "delighted" to work with Scape on the framework.
The framework, procurement of which started in June last year, is focused on rail, roads, flood defence work and other infrastructure projects.
As revealed by Building in March 2014, Scape is moving into infrastructure and civil engineering work for the first time with the new framework, which is expected to be worth £1-1.5bn over four years.
Over 350 public sector clients procure work through Scape, which is local-authority owned, but until now it has mainly focused on the building sector, with work including schools, care homes, leisure centres and residential schemes.
Balfour Beatty confirmed the appointment in a statement to investors this morning.
Quinn added: "Balfour Beatty has significant depth of expertise across the UK in delivering civil engineering projects successfully and through this appointment we will be able to improve delivery for our customers and expand our portfolio of local infrastructure schemes.
"I am also delighted that we share Scape's commitment to employ and develop trainees and apprentices in acquiring the skills necessary to build lifelong careers, and to support the local businesses that the infrastructure sector relies on."