With one of the fastest growing populations in London, Croydon is set for a flurry of development over the next five years. But will the borough be able to meet demand for school places?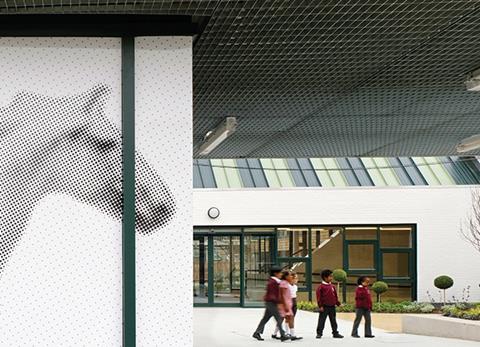 Croydon in south London is the most populous of the capital's 33 boroughs. With almost 380,000 residents, Croydon has a significantly larger population than Leicester, Cardiff and Belfast and covers more square miles than Norwich and Exeter combined. It also has one of the fastest growing populations in London with the town centre in particular predicted to undergo a massive influx of residents in the coming years.
These stout demographics are responsible for the massive wave of private sector development currently sweeping through the borough in its self-proclaimed attempt to erase the stigma of the London 2011 riots and become the capital's "third city", after Westminster and the City of London.
We've been able to meet the challenges of increased prices and an under-skilled market by delivering a standardised set of solutions tailored to different sites

John Reid, Croydon capital delivery hub
These developments are focused on the town centre which already enjoys one of the capital's highest retail densities outside central London. This status is reflected in the £1bn joint venture between Hammerson and Westfield to redevelop the existing Whitgift Shopping Centre into London's third Westfield mega retail mall.
A spate of new commercial developments and residential towers are also emerging in the town centre. Stanhope and Schroders' long-awaited £500m Ruskin Square development, dubbed Croydon Gateway due to its proximity to East Croydon station, is finally poised to start construction and will include almost 2 million ft² of flats, shops and offices that will be key to unlocking much of the town centre's development potential.
Nearby, Berkeley Homes' 43-storey Saffron Tower by Rolfe Judd Architects is already a noticeable feature on the Croydon skyline and will provide around 800 flats when complete next year. And the 55-storey 200m-high One Lansdowne Road development by CZWG Architects and developer Guildhouse UK is the UK's tallest planned residential tower. Both will help Croydon become what Dudley Mead, Croydon cabinet member for housing, has dubbed "the Manhattan of London".
But it is not just the private sector driving change; Croydon council itself is spearheading a massive public sector investment programme also taking place within the borough. Croydon capital works is a £500m five-year building programme that forms one of the largest local authority development projects in the country. It aims to help deliver Croydon's 2040 Vision which sets out to transform the borough into a new enterprise, educational, creativity, integration, sustainability and civic hub for London and the South-east over an ambitious 30-year programme.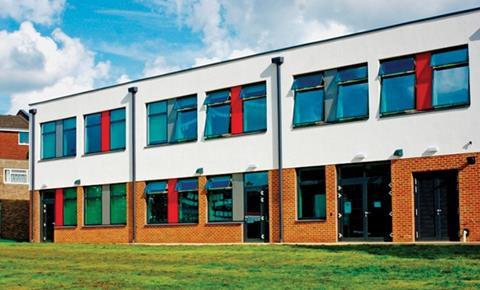 Croydon capital works includes more than 100 individual projects, all of which are being delivered by Croydon's Capital Delivery Hub, a project management team within the local authority that works closely with the planning and regeneration departments. The projects are split into four main categories, public realm improvements, housing, special works and education.
The £80m public realm projects have been part-financed by the Greater London Authority (GLA) and they include a slew of completed and proposed improvements to the borough's public realm and infrastructure. Projects incorporate what the council refers to as "vertical" and "horizontal" measures, the former pertaining to improving shop-fronts and facades while the latter involves the implementation of traditional urban design methodologies such as widened pavements, decluttered streetscapes, improved lighting and more generous seating.
The "vertical" measures are also being financed by an innovative funding strategy where individual private stakeholders such as shop-owners or landlords contribute 10% of costs while the public sector provides the remainder. Many of the public realm improvements are again clustered around the centre of the borough and include a variety of completed and proposed projects such as South End, Park Lane, Wandle Park and the Old Town Masterplan.
With 7,300 new homes planned for its town centre, housing is one the most ambitious elements of Croydon's capital works programme. While the vast majority of these homes will be delivered by the private sector, the local council is still uniquely placed to contribute towards development; it is one of the few local authorities in London that is still directly building council housing.
Developments are normally situated in suitable infill sites across the borough, and the council has provided 20 units to date but is investigating developing larger schemes. Although they are built by Croydon, the units are subsequently conventionally managed by a housing association or registered social landlord.
The special works category includes one-off developments such as the redevelopment of Taberner House, a monstrous sixties tower block near Croydon Town Hall being demolished and replaced with 600 new homes.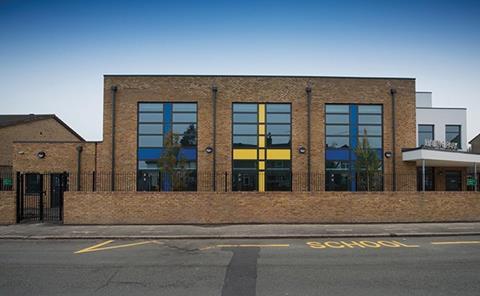 Schools
But arguably the largest and most challenging component of Croydon's capital works programme is the schools category. Croydon has approximately 28,000 children aged zero to four, more than anywhere else in London. This, coupled with the predicted increase in an already large population, has placed huge pressure on school places within the borough.
Consequently, Croydon is expected to experience a huge 30-40% growth in the demand for school places over the next few years, once again a higher increase than any other London borough. This summer alone Croydon has delivered an additional 3,500 school places.
Croydon council summarises these statistical spikes as the "Croydon abnormal", a prevailing demographic condition which they claim merits special attention for the borough when it comes to school funding, procurement and provision. Accordingly, Croydon has been awarded the highest Education Funding Agency (EFA) funding of any London borough. This amounts to £250m over the next three to four years, of which £140m has been allocated for this year and next.
There are more than 100 local authority-controlled schools in Croydon and 50 to 60 of them have been in some way expanded or enhanced by Croydon capital works. The scope and scale of intervention varies widely between what is called fixed or temporary-term expansion and the progress of current projects ranges from feasibility to defects liability stages.
Fixed-term expansion can involve extensions or brand new schools. Temporary-term expansion involves temporary, short-term solutions designed to give an immediate increase in capacity for a set time period.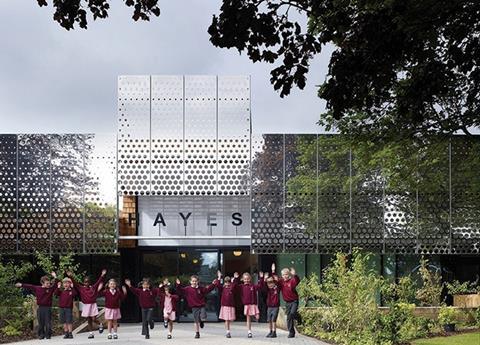 "Bulge" classes are a form of this, where temporary, sometimes mobile classrooms are provided on a school site to provide an immediate, short-term solution to overcrowding. Bulge classes have attracted some national controversy and are by no means the staple of Croydon's school building programme. Thus far, 14 bulge classes have been provided across the borough.
As well as the unprecedented demand for places, there are other challenges to the schools element of the borough's capital works programme. Its proximity to Surrey's North Downs means that Croydon is one of the hilliest boroughs in London - it has the capital's second highest point, Sanderstead Plantation. As a result, many schools are located on sites that feature sharp inclines and significant ground level shifts, a topography that complicates both access and construction.
Despite its size, Croydon is also experiencing a density problem suffered by many other primarily inner London boroughs: it is simply running out of space. High inward migration, particularly in the town centre, has significantly increased pressure on land which raises value but erodes availability.
Moreover, the brownfield sites that are selected as being suitable for redevelopment are often blighted by contamination issues, and offer limited spaces for access and external amenities such as play areas. One school project addressed the challenge of heavily restricted site space by building new classrooms propped on stilts over the roof of the existing school.
Another unique school project highlights these difficulties. Segas House is a Croydon town centre landmark, an elegant but disused art deco former office block. An innovative refurbishment strategy is soon to convert it into a school with careful retention and renovation of its historic grade II-listed fabric and the sensitive erection of raised rooftop decks to provide external play space.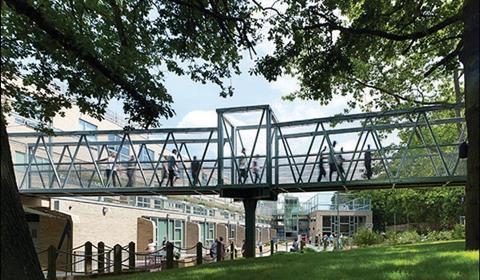 Procurement
The capital works programme tries to meet these educational challenges by adopting a flexible, borough-wide procurement approach heavily informed by standardisation and prefabrication principles. A two-stage tender process is followed with the NEC Form of Contract usually selected. According to John Reid, Croydon council's head of capital delivery: "This provides a better ethos for risk management and incentivising collaboration."
Reid reveals that traditional forms of JCT contracts are now used less often "due to time pressures and the uncertainty presented by refurbishment projects where the exact nature of the solution cannot be determined until later stages when the building can be fully accessed".
Interestingly, one of Croydon's most celebrated recent schools in design terms, Pegasus Academy by Hayhurst and Co. Architects, was completed using the traditional procurement route. While Reid acknowledges its "exemplar" design, he maintains that this was completed in the previous school building tranche before the current capital works programme and that there is now a greater onus to "combine good design with value for money".
Standardised design and modular construction are a big part of this drive for cost-effectiveness. Croydon has previously made use of the Scape framework that delivers standardised schools in conjunction with contractor Willmott Dixon and uses a mix of other procurement and design frameworks set out by bodies like the GLA and London Councils, the lobbyist organisation that supports London's boroughs.
Reid believes that the approach adopted by the capital works programme is central to securing the revitalised civic future that Croydon aspires to. "Over the last few years there has been a big increase in construction prices, up to 7 or 8% and sometimes more," he says. "We are also now faced with an under-skilled market. These have been some of our biggest challenges and we've been able to meet them by realising the efficiencies presented by having teams of design and project management professionals delivering a standardised set of solutions tailored to different sites.
"It's enabled us to develop a critical expert base that increases our delivery capacity, benchmarks performance and drives value across the borough."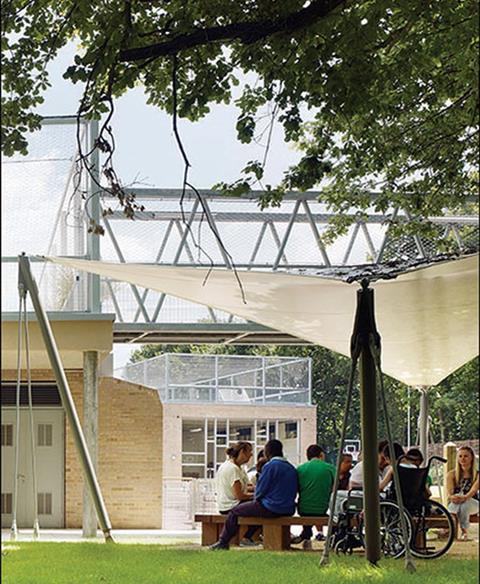 Source
This story appeared in Building magazine as 'Educating Croydon'