Balfour Beatty boss calls on prime minister to announce spending or lose UK building capacity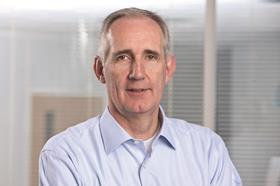 The boss of the UK's biggest builder has said Theresa May needs to come up with an infrastructure action plan by the end of the year – or risk threatening the industry's ability to build new runways, power stations and rail links.
Balfour Beatty chief executive Leo Quinn (pictured) said the new prime minister had to put an end to the dithering over when infrastructure projects such as the new nuclear power station at Hinkley and airport expansion in the South-east will finally get started.
May spooked builders last month when just hours after Hinkley was finally signed off by its developer EDF, she said she wanted a second look at the scheme. A decision has been promised for this autumn.
But Quinn said May needed to get on and spell out a timetable for a whole raft of schemes.
"What's important is clarity around infrastructure spending – including rail electrification, flood defences, HS2, airport expansion, Highways England spending and Hinkley," he said.
"If we can get clarity on government policy on infrastructure spending in all areas by January, that would be a comfort to the industry."
Quinn is concerned that more delays will see skilled staff leave the industry as the recession in construction takes hold.
"The concern is how do you maintain capability in the industry in terms of skills and the workforce? Once you lay people off [in a downturn] it's hard to get them to return to the industry and that capability is lost."
He said the government had to brace itself for more public borrowing if it wanted to build all the schemes that have been proposed – which would then give confidence to private sector funders.
He added: "Where are all the funds going to come from? Clearly, from a greater deficit. It's also important government is there to prime private sector investment, which is responsible for most infrastructure spending."
Among the schemes Balfour Beatty is waiting on is a £464m electrical package at Hinkley that it was named preferred bidder on last summer with joint venture partner NG Bailey.
Quinn was speaking to Building after Balfour stemmed its half-year losses to £21m over the first six months of this year, and revealed the team that converted London's Olympic stadium into West Ham's new home has moved on to the £1bn One Nine Elms twin tower project.
Quinn's comments come as the amount of contractors expecting workloads to increase over the next 12 months fell, according to the latest trade survey from Build UK. The number expecting revenue to go up in the year ahead stands at just 21%.