Network Rail chief executive Mark Carne outlines penalties for contractors behind rail delays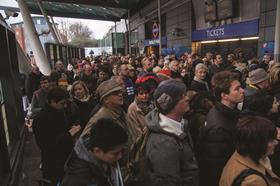 Network Rail's chief executive Mark Carne has outlined the penalties that will be dished out to the contractors behind rail chaos caused over the Christmas period.
Carne gave evidence to MPs on the transport committee yesterday and said consortium Signalling Solutions - made up of Balfour Beatty and Alstom - will face a penalty "in the region of £200,000" for an eight hour delay in its signalling work that caused problems at Paddington station.
The problems were one of two jobs that caused rail chaos over Christmas. Delays on a separate contract, being delivered by a joint venture of Amey, Sersa and Network Rail, caused London's King's Cross station to shut entirely on 27 December.
Carne told MPs that that joint venture "will lose around 25% of the total annual prize" due to it under its performance-linked contract.
Carne said the disruption would prompt Network Rail to "look again" at whether the Christmas period is the best time for it to execute so much of its maintenance and upgrade works. He added: "There are a lot of lessons for us to learn."
Carne gave an "unreseverd apology" to passengers caught up in the chaos. He added: "There was a sequence of, in their own terms, relatively small events, but together conspired to create this unacceptable situation for passengers."
He defended the performance of the organisation and said over the last five years it had "halved delays" caused by possessions, despite the fact it had carried out twice as much work over the period.
On Monday, Network Rail published a report into the Christmas disruption, which said it will conduct a "thorough review" of a Balfour Beatty and Alstom joint venture's "work management processes".
Signalling Solutions, Amey and Sersa have been contacted for comment.