Overrunning engineering work caused unplanned station closures at King's Cross and Paddington at Christmas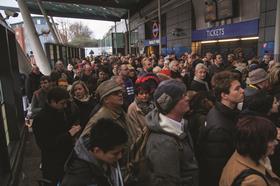 Joint ventures involving contractors Balfour Beatty and Amey are set to face questions after delays on rail projects caused chaos at London's King's Cross and Paddington stations over the Christmas period.
All trains to and from King's Cross had to be cancelled on 27 December after engineering works on track near the station overran. London Paddington station was also closed for much of the day because of separate overrunning engineering works and signal problems.
The boss of Network Rail has tasked staff with producing an urgent report into the causes of the disruption by Friday 9 January.
Network Rail confirmed to Building that it was overrunning work on its £400m Switches and Crossings Northern Alliance contract, being delivered by Amey and Sersa in a joint venture, that was the source of the service problems at King's Cross.
The two firms were awarded the job, which is set to take 10 years, in May 2014.
At the time of the win, the joint venture said it would "provide a step change in the industry by bringing the most efficient, sustainable and innovative track renewal methods from continental Europe, combined with UK engineering excellence and network knowledge".
It added: "This new approach significantly reduces risk and the duration of network possessions.
"As a result AmeySersa will minimise disruption and deliver unprecedented savings."
Network Rail also confirmed that problems on its Crossrail West project, which is renewing track and signals between Paddington and West Drayton, were the cause of delays at Paddington.
The infrastructure provider said the signalling works on the line were being undertaken by Signalling Solutions, a joint venture between Balfour Beatty and Alstom, while a raft of further contractors, which it declined to name, were involved in the track replacement works.
In the wake of the problems, Network Rail chief executive Mark Carne ordered an urgent investigation into exactly what went wrong.
He said: "Following the problems experienced at King's Cross and Paddington over Christmas, I have instructed Dr Francis Paonessa, who is the Network Rail infrastructure projects director, to provide a report into the sequence of events and associated decision-making that led to the problems experienced and to advise any immediate steps that we need to take to increase the robustness of our works delivery capability."
He said the delays caused an "unacceptable impact" on travellers.
Signalling Solutions, Amey and Sersa declined to comment.