Balfour Beatty says it is not longer bidding for Network Rail track renewal work, with the firm's existing contract coming to a close this year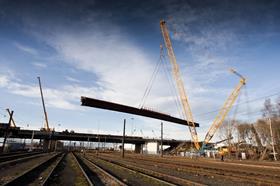 In a trading update in advance of its annual results in March, Balfour Beatty said overall trading remained in line with expectations, but the firm said it was "no longer bidding for Network Rail's track renewal work, with our existing contract running to the end of the first quarter 2014".
Balfour Beatty's current long-term track renewal contract with Network Rail was awarded in 2010, alongside AmeyColas and Babcock Rail, with the contract, which has entailed around £3.5bn of renewal work, running until March 2014
The firm said it expected its order book for the year end to be broadly in line with the £13.5bn at the end of 2012.
It added that the performance of its German rail business, which it is seeking to offload, had worsened, "primarily due to three complex loss-making contracts". "Discussions with a number of potential buyers for the business remain ongoing," the firm said.
It said in Australia, where the professional services business has been hit by a market downturn, the overall performance was as expected, with cost reductions "mitigating the impact of the continued challenging market conditions".