£352m Gwynt y Môr wind farm deal represents third in 'growth' sector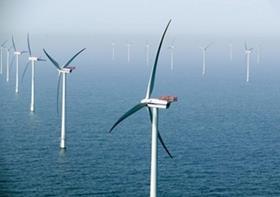 Balfour Beatty has reached financial close on the power transmission network for the Gwynt y Môr wind farm off the north Wales coast – which will be its third sea-to-land power system.
The company said it will jointly own the £352m transmission system with infrastructure investor Equitix. The network includes more than 80km of subsea cables and three substations connecting the 160-turbine farm with the National Grid.
Balfour said the deal would see it invest £28m in equity, which represented 60% of the investment required. It was picked as preferred bidder to own and operate the Gwynt y Môr connection in 2013.
The firm reached financial close on the Greater Gabbard offshore transmission project (OFTO) in November 2013 and the Thanet OFTO in December last year. Balfour cashed in on 80% of its Thanet OFTO scheme ownership for £40m on Monday.
Balfour Beatty group chief executive Leo Quinn said offshore power delivery represented a "sizable growth opportunity" for the firm's investments business.
"The offshore transmission market has a future pipeline to 2020 of up to £10bn," he said.
"Combining our investment and operational capabilities gives us a leading offering in this market and we have already used this to establish a strong early presence."
Balfour said its services division was responsible for the Gwynt y Môr transmission system's operations and maintenance under an Ofgem licence that had a 20-year revenue stream.