Leo Quinn's firm edges ahead of rival contractor Brookfield Multiplex for London twin tower project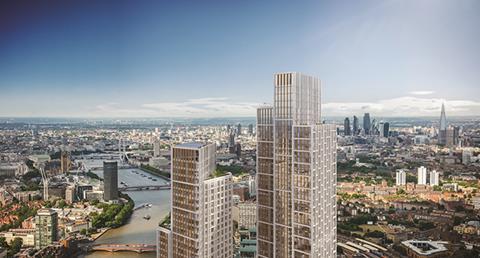 Balfour Beatty is tipped to take over the £1bn One Nine Elms twin tower scheme in London, beating off competition from rival contractor Brookfield Multiplex.
Balfour has edged ahead of Multiplex in the race for the high profile job for Chinese property giant Dalian Wanda, with confirmation expected imminently, according to a well-placed source.
The win would be seen as a coup for the troubled contractor, which is prioritising winning major rather than smaller jobs despite being hit by losses on big problem jobs in recent years, dragging it to £199m and £304m pre-tax losses in 2015 and 2014 respectively.
Dalian Wanda originally awarded the job to an Interserve and China State Construction Engineering Corporation (CSCEC) joint venture last April, but returned to the market earlier this year after failing to finalise a deal with the duo.
Balfour Beatty and Brookfield Multiplex emerged as the two contractors in the frame for the One Nine Elms job in March. Balfour Beatty has already worked on the scheme carrying out substructure work, while Brookfield Multiplex is working on a Dalian Wanda development on Australia's Gold Coast.
One Nine Elms comprises a pair of KPF-designed towers at 42 and 58 storeys in height, incorporating 437 homes and a five-star hotel. The wider Nine Elms area will also become the new home of the US Embassy.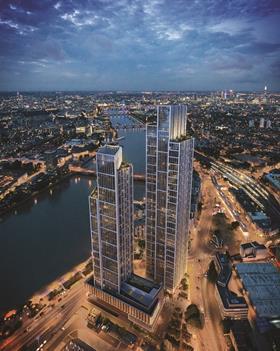 Dalian Wanda and Brookfield Mutliplex declined to comment. Balfour Beatty was unavailable for comment.
Balfour Beatty is better known for building mid-size London towers - including two on Holborn Viaduct, Sixty London, now home to Amazon UK, and 40 Holborn Viaduct - but has more recently picked up skyscraper jobs in Docklands.
The firm is close to completing construction on a 43-storey luxury residential tower, Providence Tower, and picked up a pre-construction services agreement on 53-storey The Madison tower in January, both in the Docklands area.
Balfour chief executive Leo Quinn told Building in March the firm was adopting a more selective bidding strategy, including pursuing more major complex jobs and competing for fewer small jobs. He said: "We still want to be taking on premier engineering jobs […] We will be doing more and more of these."
Dalian Wanda - which trades as Wanda One in the UK - surprised the marked when it picked the Interserve and CSCEC joint venture for One Nine Elms, ahead of rival shortlisted bidders Mace and a separate CSCEC joint venture with Atkins. Dalian Wanda's UK development director Peter Amato left a month later, in a move Building revealed was understood partly to be prompted by the decision not to pick Mace for the job.
Last November, Mace chairman Stephen Pycroft went public with his disappointment when he told the Building Live show: "I was a bit annoyed to say the least that we lost One Nine Elms to China State and Interserve."