Exclusive: Client's 'fundamental review' of King's Cross office could double project's value and spark re-procurement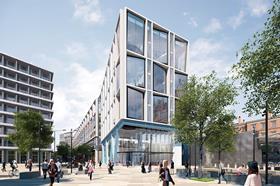 Bam Construct is facing the possibility of losing its £300m main contract on the high-profile Google HQ job, as the tech giant undertakes a review of the design and procurement of the project, which could double its value.
Google announced last month that it had decided to scrap the design for its £650m HQ in King's Cross (pictured), in a move the firm said was aimed at "challeng[ing] ourselves to do something even better".
Architect Allford Hall Monaghan Morris has been retained to rework the design of the 750,000ft2 scheme, with cost consultant Gardiner & Theobald and engineer Waterman also continuing in their roles.
It is now understood the procurement of the project is also under review. Sources close to the situation said this meant Bam, which won the £300m main contractor role on the project in March, could lose its place.
One source said Bam was in a "wait-and-see position" and that "it was a possibility" the firm could lose the job.
"It is a fundamental review and it could have fundamental implications [for Bam]," the source said.
Other sources said the review could double the value of the project and the client was assessing how this would affect the main contractor.
"It's not certain what sort of procurement route might be chosen [if the scheme is re-procured] because it's potentially a radical change in design", one source said.
"They'll want to look at options. They probably wouldn't want to go for a normal tender […] But it's up in the air."
Bam was expected to start on site in the new year, but the work has now been put on hold.
Bam beat off competition from Skanska and Carillion for the role, after Balfour Beatty was knocked out of the race at an earlier stage.
The high-profile contract win was seen as a major fillip for the firm, helping open the door into the prestigious London commercial market.In a statement Bam said it was "wholly committed to helping Google realise its vision for a structure that reflects its global presence".
"We continue to offer expert advice and support at King's Cross where our people are helping Argent make such a significant transformation to the life of London," a spokesperson said.
Development manager Argent declined to comment.
Google was unavailable for comment.