Project is due to open 2023
Bam has been appointed to build a £68m hospital in Salford.
Salford Royal NHS Foundation Trust, part of the Northern Care Alliance NHS Group, has appointed the firm to build a new hospital to support its role as the major trauma centre for Greater Manchester.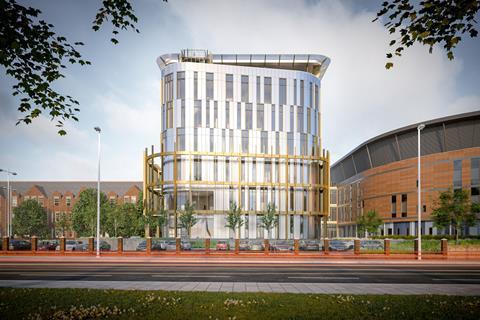 The contractor was appointed through the Procure22 Health Framework, which is due to be replaced by the covid delayed Procure 2020 framework this year.
Planning permission for the six-storey James Potter Building, previously known as the Acute Receiving Centre, was granted in December 2019.
The new hospital build on the Salford Royal site is also part of the government's Health Infrastructure Plan, which will deliver 48 hospitals across the country by 2030.
The new facility will provide the trust with major trauma and high acuity surgery facilities.
Once complete, the specialist facility is set to receive 90% of all major trauma patients in Greater Manchester.
The 9,800 sq m, six-storey centre is set to include a resuscitation area, five emergency theatres, inpatient beds, diagnostic imaging, and a helipad.
Bam is currently carrying out enabling works with a full construction programme start confirmed for 22 February.
Day Architectural worked on the design with Bam and the Trust.
The scheme aims to complete in summer 2023.