Target of 40 hospitals over next decade laid out by Number 10
The government has made a £3.7bn commitment to fund the construction of 40 hospitals by 2030 – but has been told it will need to find nearly six times that amount if it is to fulfil its pledge.
The 40-hospital programme includes completing four hospitals that are already under construction, including the Midland Metropolitan and Royal Liverpool hospitals that were stalled by Carillion's collapse almost three years ago. These are being finished by Balfour Beatty and Laing O'Rourke respectively.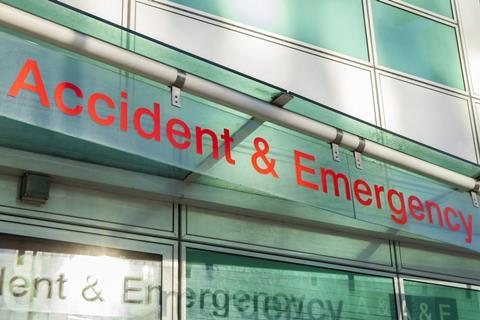 They also feature four projects, including the new Moorfields Eye Hospital, that are awaiting final approval.
The six hospital schemes that were handed £2.7bn by the government last year as part of the first wave of the health infrastructure plan (HIP1) have also been included on the list.
Of the remaining 26 hospitals, 25 are part of HIP2, the second wave of hospitals to be funded, while the final hospital, Shotley Bridge Hospital in Durham, is a brand new project the government has just announced.
But NHS Providers, which represents NHS hospital, mental health, community and ambulance services, said the construction of these hospitals would cost around £20bn rather than the £3.7bn that has been announced.
Its deputy chief executive Saffron Cordery said: "We will need an appropriately funded, long term, NHS capital strategy, hopefully at the comprehensive spending review in November.
"Building a new, average mid-sized, hospital costs around £500m, so this is just an initial down payment. If the government wants these hospitals built in the time it is specifying, trusts will need the rest of the capital allocated as soon as possible."
Cordery also said it was disappointing there was an absence of any meaningful investment in the "crumbling mental health estate".
The 26 projects the government is funding as part of HIP2 are spread across England, with three in the capital, four in the East of England, three in the South-east, two in the Midlands, two in the North-west, one in the North-east and Yorkshire region and 11 in the South-west.
26 new hospital projects (HIP2)
| Site | Region | Trust | Details |
| --- | --- | --- | --- |
| The Hillingdon Hospital, North West London | London | Hillingdon Hospitals NHS Foundation Trust | Rebuild of Hillingdon Hospital to replace ageing estate to tackle significant critical backlog. |
| Charing Cross Hospital, London | London | Imperial College Healthcare NHS Trust | Rebuild of Hammersmith Hospital, new clinical academic redevelopment near ICL White City Campus, co-located with Imperial College biomedical campus at White City. Major floor-by-floor refurbishment of Charing Cross. |
| St Mary's Hospital, London | London | Imperial College Healthcare NHS Trust | Rebuild of St Mary's Paddington |
| West Suffolk Hospital, Bury St Edmunds | East of England | West Suffolk NHS Foundation Trust | To rebuild West Suffolk Hospital, replace poor estate and provide a better patient environment at West Suffolk Hospital |
| Addenbrookes Cancer hospital | East of England | Cambridge University Hospitals NHS Foundation Trust | New cancer hospital at Addenbrookes |
| James Paget Hospital, Great Yarmouth | East of England | James Paget University Hospitals NHS Foundation Trust | Rebuild of James Paget Hospital. |
| Milton Keynes Hospital | East of England | Milton Keynes University Hospital NHS Foundation Trust | To build a new women and children's hospital at Milton Keynes hospital. |
| East Sussex Healthcare NHS Trust | South-east | East Sussex Healthcare NHS Trust | To provide a new hospital at Eastbourne; new medical wards and refurbishment at Conquest; new clinical building at Bexhill. |
| Hampshire Hospitals NHS Foundation Trust | South-east | Hampshire Hospitals NHS Foundation Trust | New hospital at Basingstoke & North Hampshire Hospital and major refurbishment at Royal Hampshire Hospital in Winchester. |
| Royal Berkshire Hospital, Reading | South-east | Royal Berkshire NHS Foundation Trust | Rebuild of Royal Berkshire to replace ageing estate to tackle significant critical backlog. |
| Kettering General Hospital | Midlands | Kettering General Hospital NHS Foundation Trust | Rebuild of Kettering General. Options being developed to move to a hot/cold configuration, or a single site rebuild. |
| Queen's Medical Centre, Nottingham City Hospital | Midlands | Nottingham University Hospitals NHS Trust | Rebuild of both the Queen's Medical Centre and City Hospital sites. |
| North Manchester General Hospital | North-west | Manchester University Hospitals Foundation Trust | Rebuild of North Manchester General Hospital provide new healthcare facilities to replace poor estate and provide better patient environment. |
| Royal Preston and Lancaster Royal Infirmary | North-west | Lancashire Teaching Hospitals and University Hospitals of Morecambe Bay | Planned replacement of Royal Preston and Lancaster Royal Infirmary, where subject to consultation either a single or two hospitals with appropriate re-provision of 3 community urgent care hubs and 3 out of hospital hubs will result. |
| Shotley Bridge Hospital, Durham | North-east & Yorkshire | County Durham | New hospital including inpatient beds, with unscheduled care, outpatient activity, chemotherapy, and diagnostics to replace the existing Shotley Bridge Hospital. |
| Christchurch Community Hospital, Dorset | South-west | Dorset HealthCare University NHS Foundation Trust | Rebuild of Christchurch Community hospital, Implementing. Consolidating services into new community hubs, with associated investment in DGH and mental health care. |
| St Ann's Hospital, Dorset | South-west | Dorset HealthCare University NHS Foundation Trust | New build on existing site for Child and Adult Mental Health Services in Dorset. |
| Derriford Emergency Care Hospital | South-west | Plymouth Hospitals NHS Trust | A new integrated emergency care hospital, bringing all urgent care into one emergency care hospital, with dedicated areas for children and frail patients. |
| Cornwall Children's Hospital | South-west | Royal Cornwall Hospitals NHS Trust | New Women's and Children's Hospital in the centre of the Royal Cornwall Hospital site in Truro. |
| Royal United Bath Hospital | South-west | Royal United Hospital Bath NHS Foundation Trust | A new Cancer Hospital, completing a programme of phased capital work at the Royal United Hospitals Bath (RUH) which has specifically aimed to deliver a new Cancer Hospital, reduce critical areas of organisational risk and improve the quality of the environment for service delivery across the northern part of the Combe Park estate |
| Torbay District General, Torquay | South-west | Torbay and South Devon NHS Foundation Trust | Rebuild of Torbay Hospital. New smaller acute 'hot' hospital, a 'cold' elective centre and monies for a collaborative North East South elective centre all underpinned by an EPR system and technology enabled care. |
| Musgrove Park Hospital, Taunton | South-west | Somerset NHS Foundation Trust | Rebuild of Musgrove Park Hospital |
| Bournemouth Community Hospital, Dorset | South-west | Dorset HealthCare University NHS Foundation Trust | Rebuild of Bournemouth Community Hospital |
| North Devon District Hospital | South-west | Northern Devon Healthcare NHS Trust | Rebuild of North Devon District Hospital to provide new healthcare facilities to replace ageing estate and enable the delivery of new models of care at. |
| Poole Community Hospital, Dorset | South-west | Dorset HealthCare University NHS Foundation Trust | Rebuild of Poole Community hospital with theatres and sterile services. Part of the 'One Dorset Estate' which links acute and community services to reduce pressure. |
| Dorchester Community Hospital, Dorset | South-west | Dorset HealthCare University NHS Foundation Trust | New build of Dorchester Community Hospital on site and also to build new ED and ICU. Service model sees better integration of the DGH with GP and community services in a new hospital. |