Work is part of east London facility's expansion plan to cope with increased passenger numbers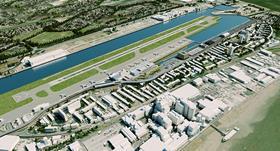 Bam Nuttall has been appointed by London City Airport to build a new concrete deck extension.
The £85m deck is the first stage of the £480m City Airport Development Programme, which includes aircraft stands, a parallel taxiway and a passenger terminal extension.
The initiative will increase the number of flights at the airport and enable the number of annual passengers to grow from the current 4.5 million to 6.5 million.
Under the contract Bam Nuttall will extend the airport's concrete deck out over the King George V Dock supported by over 1,000 concrete piles with steel casings – each approximately 20m in length.
Works will start later this spring, once the unexploded ordnance survey is complete, which recently discovered a 500kg Second World War bomb.
Completion of the deck is expected in early 2020.