Civils firm sees revenue hit £750m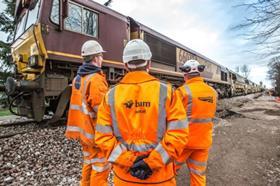 Bam Nuttall more than tripled its pre-tax profit in 2018 on the back of a double-digit hike in turnover.
The civil engineering arm of Netherlands-based Royal Bam saw pre-tax profit jump from £8m to £26m.
Revenue hit £750m in the 12 months to December 2018, up from £669m the year before.
The firm, which has been working on Crossrail's Farringdon station scheme and is helping expand London City Airport, said operating margins hit 3% duing the period.
In January this year, it won a place on a £7bn Network Rail framework to carry out work on the operator's contractor for the Soth east route, as well as for £950m worth of work along the London North Eastern and East Midlands rail routes.