Bam to wrap up work on building's shell and core next month
ISG has won the prized deal to fit out the new UK headquarters of US tech giant Facebook in London, Building can reveal.
The job, which has a price tag north of £50m, is due to start in the coming weeks after main contractor Bam wraps up work on the scheme in King's Cross next month.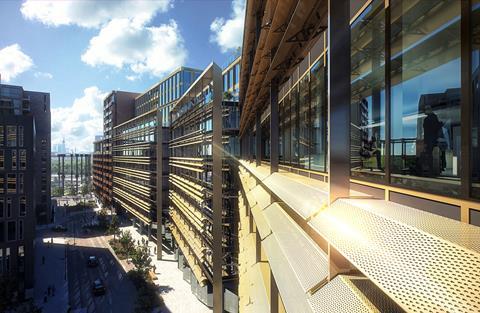 Eventually called 11-21 Canal Reach, the two Facebook buildings are currently known as T2 and T3 and feature between 10 and 12 storeys of office space running to a total of 415,000 sq ft.
Bam has been working on the scheme since late 2018 when it won the deal – believed to be around £200m and making it one of the firm's biggest ever jobs in the UK at the time.
Designed by Bennetts Associates, Bam is finishing the scheme's shell and core for King's Cross Partnership, a venture between developer Argent and Hermes Investment Management, before handing over to ISG ahead of fit-out work beginning in the spring. ISG declined to comment.
Kier is behind a third building for Facebook which has been designed by AHMM and is called P2. The nine-storey block, which runs across 196,000 sq ft, is going up at nearby Lewis Cubitt Square and will include a 600-seat theatre.
Meanwhile, Bam is finally set to start main construction work on a £78m job to redevelop the former East End home of the Cass School of Architecture, Art and Design.
Designed by AHMM, the contractor has been working at Central House, Whitechapel, for around 18 months under a PCSA deal for the UK arm of Singaporean developer Frasers Property.
Bam said the project had "proven to be highly complex" meaning the original plans for the building had changed "significantly" resulting in a £13m cost hike from the original £65m.
The only part of the building that will be retained is the 1960s modernist façade. A six-storey steel structured extension will be added on top to make a 12-storey block.
Burnley Wilson Fish is QS and contract administrator, while engineers Robert Bird and Sweco are also part of the project team. Bam's own services engineering team is carrying out M&E.
Work is expected to complete in autumn next year.