Exclusive: Decision saw three divisions of Rotary M&E enter administration, with the loss of 146 jobs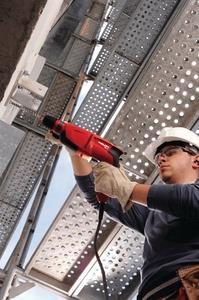 A proposed takeover of the whole of M&E firm Rotary was rejected in favour of a deal that resulted in three divisions of the firm being put into administration, costing 146 jobs, Building can reveal.
According to a report by administrator FTI, the offer for the entire Rotary business from an unnamed bidder was declined in favour of a bid from fellow M&E firm Lorne Stewart for the firm's North West, Southern, Yorkshire and Midlands-based divisions.
The decision saw three divisions of Rotary in Scotland, Northern Ireland and Northern England enter administration in July.
The Lorne Stewart acquisition saved 391 of the firm's 537 jobs.
The report also reveals trade creditors of the three collapsed Rotary divisions are owed £5.9m.
The report reveals that a banking syndicate and a "proposed administrator" declined the wholesale offer because it was "not at an acceptable level" and "the offer had a high degree of uncertainty and execution risk".
The banking syndicate – which includes four of Australia's biggest banks – was left "circa £300m" out of pocket after the collapse of Rotary's Australia-based parent company Hastie in May, the report says.
The collapse of Hastie led the banking syndicate to seek a sale of Rotary's UK and Ireland business – UK investment bank Rothschild was appointed in May to oversee the bidding process.
In total 63 parties were contacted and four "indicative offers" were received in June.
Two bidders submitted final offers on 17 July after looking through Rotary's books.
Neither bidder expressed an interest in acquiring Rotary's Ireland business, so this was placed into receivership on 27 July.
The report said Lorne Stewart's offer was accepted instead of the wholesale offer because –
It delivered the highest recovery of any offer to RL's creditors and delivered a greater return to its secured creditors than any alternative option
The LS Transaction preserved 391 jobs as well as RL's defined benefit pension scheme and minimised the losses of other creditors of the Target Companies
It was supported by the Syndicate due to arrangements being made to protect its bond exposure in the Target Companies and could therefore be implemented
The banking syndicate is first in line to be paid by the administrator as a secured creditor.
It has so far received £500,000 with "a further distribution [to] be paid in due course."
Australian media reports say the banking syndicate is made up of ANZ, Commonwealth Bank, National Australia Bank, Westpac, Bank of Scotland, Ulster Bank, HSBC Australia and HSBC Middle East.