Housbuilder reports pre-tax profit of £45m for last six months of 2012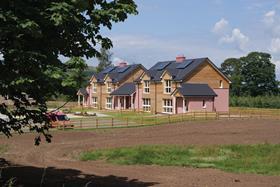 Housebuilder Barratt has said it expects its pre-tax profit for the last six months of 2012 to more than double from its profit in the same period of 2011.
In a statement to the City the firm said it expected to report a pre-tax profit of around £45m in its interim results next month, up from £22m in 2011.
The firm said it expected to deliver a "significant improvement" in profitability in 2013.
I said it would report a revenue of around £950m for the six months to 31 December, only slightly down from £953m in 2011.
Barratt reported that it has made 5,085 completions in the the second half of 2012 down from 5,117 in 2011. But it added that average selling price increased 2.1% to £185,000.
The firm said the government's NewBuy scheme, which as used in 7.7% of reservations over the period, was a "priority selling tool". It added that it expected to see improvements in mortgage lending in 2013.
Mark Clare, Group Chief Executive said: "This has been a good first half performance."
"We have been investing for the future, successfully securing higher margin land both in the South-East and across the rest of the country that will drive further profit growth."