London mayor signs deal with housebuilder for mixed-use redevelopment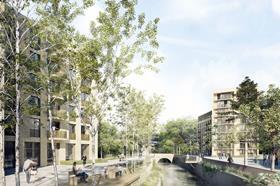 Housebuilder Barratt has been chosen to build almost 600 homes at the site of the former Catford Greyhound Stadium, London mayor Boris Johnson has announced.
The £117m redevelopment will bring 589 new homes to the publicly owned 4.7 hectare site in south London under a deal between the Mayor and Barratt London.
The scheme will include 113 affordable rent properties which will be managed by Gallions Housing Association, 60 shared ownership properties and 416 properties for private ownership along with 508 sq m of retail space, 298 sq m of community space and landscaped links to Ladywell Fields and Catford Town Centre.
The site is among the first released by the Greater London Authority since it became one of the capital's largest public land owners last year.
Alastair Baird, Barratt London regional managing director, added: "This is the fifth site we have secured in the capital in the last six months, bringing a total of 1,800 new homes to London. The site at Catford will add to our already significant presence in the Borough of Lewisham, with our redevelopment of the town centre - Renaissance - which will provide a total of 788 new homes together with a new leisure centre due to open shortly."
Johnson, said: "London's unbeatable allure means unprecedented demand for housing, and making public land available for development has a big part to play in meeting this. The transformation of Catford Dogs, which for the last decade has been left empty and unused, will not only bring hundreds of new homes to the heart of London, but will feed into the wider regeneration of Catford Town Centre."
Barratt London is among 25 developers announced last week to sit on the Mayor's land procurement group, the London Development Panel.