Enfield council threatened to terminate the housebuilder's role after it refused to commit to plans in its original bid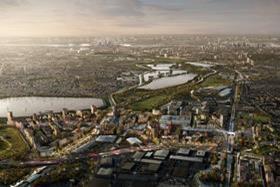 Barratt has withdrawn as the development partner for Enfield council's £6bn Meridian Water regeneration scheme.
An Enfield council spokesperson said the housebuilder withdrew after the council gave the firm a deadline of 25 October to confirm its commitment to "a number of key elements of its own bid" or face having its role as the preferred bidder terminated.
The spokesperson added that the council found the proposed terms of the development agreement to be "unacceptable" and considered it to be "a poor deal" for the north London borough.
Barratt is understood to have deviated too far from its original bid proposals for the council to agree to the partnership.
A Barratt spokesman said: "Barratt London has a long and successful history developing large regeneration projects in the capital but unfortunately we have been unable to agree terms on this particular scheme. We wish the council well taking the project forward."
The firm was selected as the preferred bidder for the role in May last year beating four rival bidders, including Berkeley Homes and Taylor Wimpey to the job.
The council spokesperson told Building that the council is now exploring its options which could see the development partner role awarded to Hong Kong-based runner up Pacific Century Premium Developments (PCPD) or the entire procurement scrapped.
Enfield council's Meridian Water scheme covers 136 developable acres in the southern part of the borough with the potential for 10,000 new homes.
The 20-year project will also be home to Europe's largest workshop for Building Bloqs, which provides workspace with specialist machinery for crafts-people and the Association for cultural and visual arts.
Network Rail is already progressing with delivering a new station for the site, which is expected to open in 2019.