Barratt's withdrawal from 10,000-home scheme prompts talks with new developer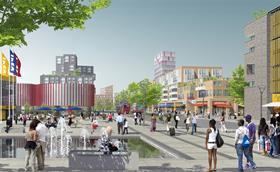 Enfield council will open talks with Chinese firm Pacific Century Premium Developments (PCPD) for it to become the lead development partner on a £6bn regeneration scheme in north London.
A cabinet meeting on Monday night recommended that PCPD be approached to open negotiations following Barratt's withdrawal as lead development partner on the scheme called Meridian Water.
PCPD was named as the reserve bidder when Barratt was chosen as the development partner in May 2016 after it beat four rivals, including Berkeley Homes and Taylor Wimpey to the job.
But Barratt withdrew from the job last week after the council gave the housebuilder a deadline of 25 October to confirm its commitment to "a number of key elements of its own bid" or face having its role as the preferred bidder terminated.
The council found the proposed terms of the development agreement to be "unacceptable" and considered it to be "a poor deal" for the north London borough.
Barratt is now expected to recover up to £500,000 in planning costs. A spokesperson for the firm added: "Unfortunately, we have been unable to agree terms on this particular scheme."
An Enfield council spokesperson said: "The Enfield cabinet agreed that Enfield council would approach the reserve bidder PCPD to open discussions on Meridian Water.
"Any options for how the delivery of Meridian Water can be taken forward will be carefully assessed to ensure they best meet the interests of the people of Enfield and will be taken back to cabinet for final decision."
Meridian Water covers 136 acres in the southern part of the borough with the potential for 10,000 homes.
Hong Kong-based PCPD was founded in 1999 and is majority-owned by Pacific Century Cyberworks, the holding company of Hong Kong Telecommunications. Its schemes in the former British colony include the Bel-Air residential development.