Design industry pays tribute to recently-closed charity that championed good design in schools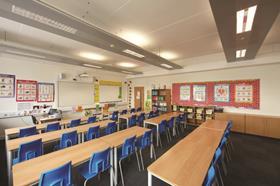 The closure of the charity British Council for School Environments last week will be a "huge loss" to the school building sector, design leaders have said.
The BCSE, which had been a vocal campaigner for best practice in school design, closed its doors last week because of a lack of funding.
Rachel Jones, chair of the British Council for School Environments (BCSE), said the decision by the charity's board of trustees had been taken with a "heavy heart and much sadness".
She added: "Like many charities, we have been struggling for some time to raise enough money to keep the organisation going.
"This is partly due to the impact of the loss of capital funding in the education arena over the last two years. Despite our best efforts, it's clear that the myriad of challenges we're facing means we cannot continue to operate."
Jones said asking for extra cash could not be done "in good faith" in the current economic climate.
Philip Watson, Atkins design director and head of education, said the BCSE had been a "voice of reason" in the debate over school design and would be a "huge loss" to the sector.
He said: "It's a great pity that the BCSE has closed at a time when the debate around education funding and priorities in school design is raging. The BCSE created a platform for those of us who believe that design does make a difference."
Ken Shuttleworth, founder of Make Architects, agreed the closure was "a shame".
He said: "I think there has been a whole move around schools from [them] being great places to go towards being lower quality buildings. You have a duty to our kids to give them a nice environment to work in and the BCSE did promote that."
The closure comes less than two months after its chief executive, Nusrat Faizullah, stepped down after just over a year at the organisation. Sharon Wright had been interim chief executive.