Help to Buy accounts for 23.8% of new reservations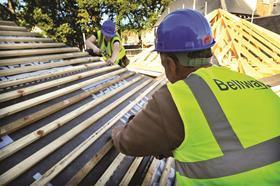 Bellway's pre-tax profit has climbed 53% in its latest interim results.
The housebuilder reported pre-tax profit of £158.9m on revenue of £831.2m, for the six months to 31 January 2015.
For the corresponding period a year ago, pre-tax profit was £103.8m on turnover of £700.4m.
Operating margin increased to 19.9% (H1 2014: 15.6%).
Chief executive Ted Ayres said Help to Buy has been an "important initiative" for the housebuilder, and was used to secure almost a quarter of Bellway's new reservations.
The group achieved an average of 139 reservations per week during the first half of the financial year (H1 2014: 137 per week).
Completions were up 15.7% to 3,754 (H1 2014: 3,245).
Bellway said "London remains resilient", with housing revenue in the region up 16.4% to £203.2m (H1 2014: £174.6m).
Its land bank has grown grow to 35,837 plots (31 July 2014: 35,434 plots), while orders were up 35.2% to £1.12bn (March 2014: £829.5m).
Ayres said: "Customer demand for new homes has remained robust throughout the country.
"Reservations have held up particularly well given the strength of the comparator period, which benefitted from an initial surge in activity following the introduction of Help to Buy in April 2013.
"Help to Buy remains an important initiative for the housebuilding industry, supporting creditworthy customers to purchase a new home and this incentive has been used to secure 23.8% of reservations.
"Whilst there continues to be a gradual improvement in the availability of mortgages, Help to Buy remains the only widely accessible and cost effective option for those customers with a deposit of 5%.
"The pricing environment remains positive, however the rate of growth in selling prices has moderated. This creates a more sustainable outlook, especially in the London boroughs."