Housebuilder says it enjoyed record-breaking financial year in trading update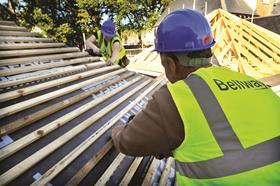 Housebuilder Bellway enjoyed a record-breaking financial year in the 12 months to July and hit a 20% operating margin, the firm said in a trading update ahead of publication of its results.
Bellway's operating margin jumped around three percentage points over the year, up from 17.2% the previous year.
The firm's order book broke the £1bn barrier - hitting £1.1bn - up from £924m the previous year. This represents 4,568 homes, up from 4,363 homes.
House completions were up 13.2% to 7,752, up from 6,851, while the average selling price rose 5% to £224,000, up from £213,182.
Bellway said demand for new homes "remained strong throughout the year" and "throughout the country".
The firm added: "The land market remains attractive and the recent confirmation that the Help to Buy shared equity scheme will be extended to 2020 in England, provides stability and visibility when assessing future land opportunities."
Bellway has opened a new division in Kent as part of its expansion.
Ted Ayres, Bellway chief executive, said: "We have made a substantial investment in attractive land opportunities and the group has the balance sheet and operational capability to invest further, thereby enabling Bellway to continue delivering additional and much needed new homes."