Housebuilder reports big leaps in profit and revenue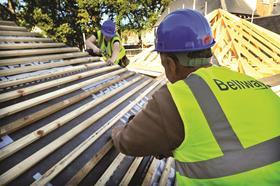 Bellway is the latest housebuilder to report bumper results, with pre-tax profit and revenue both strongly up in the year to July 2015.
The firm said it enjoyed "another record year", with pre-tax profit up 44% to £354.2m, up from £246m, while revenue rose 18.9% to £1.8bn, up from £1.5bn.
As Bellway indicated in a trading statement issued last month, the firm's operating margin topped 20%, hitting 20.4%, up from 17.2% the previous year.
Bellway acknowledged that it faced "constraints" regarding labour shortages and rising material costs due to the booming housing market, but said these were "beginning to abate".
The group sold a record 7,752 homes, up 13.2% on 6,851 homes the previous year.
Bellway spent £620m over the period on land opportunities to increase its land holdings to 36,211 plots.
Its order book at the start of the 2015-16 financial year stood at £1.1bn, representing 4,568 homes, up from £924m, representing 4,363 homes.
Chairman John Watson (pictured) said: "Bellway has produced another outstanding set of results, completing a record number of new homes, whilst simultaneously making a record investment in land and opening a further two new divisions in the last twelve months.
"Bellway is well positioned to continue delivering its strategy for growth, investing in high quality locations and delivering further sustainable returns for shareholders.
"The outlook remains positive and the strength of the forward order book should enable the Group to achieve volume growth of up to 10% in the current financial year."