Flats, shops and open space aim to provide new gateway to town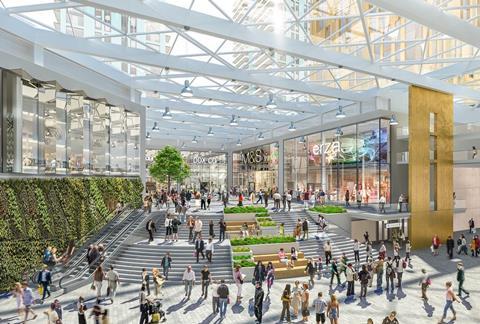 Benoy has won planning for its Victoria Square project, billed as Woking's first new outdoor public space for a generation.
The retail-led mixed-use scheme is part of the ring-road-dominated Surrey town's wider masterplan and is intended to act as a gateway while also improving the public realm.
It features three towers of 21, 30 and 34 storeys. The taller two are flats and the lower towers contains a 6,000sq m Marks & Spencer and a four-star hotel. The scheme also contains a medical centre and two plazas.
David Ellis, head of the London studio and a director at Benoy, said: "The Victoria Square development is an exciting project with a multitude of retail, entertainment and food and beverage options which we believe will entice residents and visitors to Woking and encourage them to shop, explore and enjoy the heart of the town."
The practice is also working on on-going reconfiguration projects at the town's Peacocks and Wolsey Place shopping centres.
Source
This story originally appeared on Building Design here.