Developer on track despite tough trading environment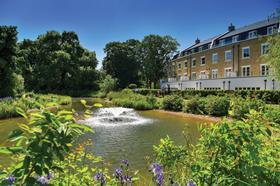 Berkeley Group has said it is on track to deliver around £900m in pre-tax profits this year despite tough trading conditions in its core markets of London and the South-East.
The developer, which is chaired by Tony Pidgley, said it expected to generate forward sales in excess of £2bn by the close of its financial year at the end of April and pre-tax profits of £1.5bn over the next two years, with 60% weighted towards the current financial year.
In a trading update Berkeley, which last year posted annual turnover of £2.7bn and a pre-tax profit of £812.4m, said factors including high transaction costs, the length of time and the complexity of getting on site following planning approval and what it called "prevailing economic uncertainty" meant it was unable to increase production "beyond business plan levels".
The firm said the fundamentals of the market in London and the South-East remained "compelling" but the impact of the trading environment on volumes "do not support the step-up in production levels that these markets so badly need".
The comments come as the government looks into whether housebuilders can increase the number of homes they build without sending prices down.
Cenkos analyst Kevin Cammack said: "Fans of Pidgley will admire the group's reluctance to be bullied into a different strategy to suit a political agenda."
It said it was still on track to deliver at least £3.3bn of pre-tax profits for the five-year period from 1 May 2016 to 30 April 2021.
Last December Berkeley revealed it had submitted a planning application to build a modular construction factory in Ebbsfleet, Kent.