Further findings in June with final report out this autumn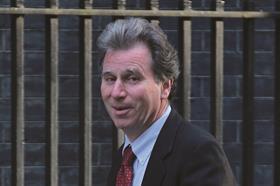 Oliver Letwin's review of planning and housebuilding is looking into whether housebuilders can speed up the rate at which they build homes without pushing prices down.
The former Conservative minister's full review will be published at the time of the autumn Budget, following further findings due in June, but in his spring statement today, the chancellor of the exchequer Philip Hammond told MPs Letwin had concluded his preliminary research and had made a number of initial findings.
In a letter to Hammond and Sajid Javid, the secretary of state for housing, communities and local government, Letwin said a number of issues were considered in his research, including what he called a "web of commercial and industrial constraints", including labour and material shortages, limited capital and a lack of local infrastructure.
But Letwin (pictured), a former policy minister in David Cameron's government, said: "The fundamental driver of build out rates once detailed planning permission is granted for large sites appears to be the 'absorption rate' – the rate at which newly constructed homes can be sold into (or are believed by the housebuilder to be able to be sold successfully into) the local market without materially disturbing the market price."
He went on: "The principal reason why house-builders are in a position to exercise control over these key drivers of sales rates appears to be that there are limited opportunities for rivals to enter large sites and compete for customers by offering different types of homes at different price-points and with different tenures."
Letwin asked whether the absorption rate "and hence the build out rate, be different if large sites were 'packaged' in ways that led to the presence on at least part of the site of other types of house-builder offering different products in terms of size, price-point and tenure, or the major house builders offering markedly differing types of homes and/or markedly different tenures themselves?"
He also questioned whether the absorption rate would be different "if the reliance on large sites to deliver local housing were reduced? And what are the implications of changing the absorption rate for the current business model of major house-builders if the gross development value of sites starts to deviate from the original assumptions that underpin the land purchase?"
Letwin said he would investigate what effect faster build out rates would be likely to have "on the 'land banks' held by the major builders".
Responding to Letwin's report RICS' Parliamentary affairs manager Lewis Johnston said increasing the speed of building and delivery after planning permission had been granted was an "absolute necessity if the housing target and subsequent backlog is to be tackled.
"If the private sector is not delivering the volume of homes needed then ultimately it's the government's job to widen participation as a means to find other ways of plugging the gap. We can't simply implore and rely on volume housebuilders to build more.
"The only proven way the UK has ever built anywhere near 300,000 new homes a year is when the public sector has been fully enabled as a key delivery agent. That's why RICS has called on the government to fully lift the borrowing restrictions that are currently holding back local authorities."
In his statement earlier today, Hammond reiterated the government's commitment to build 300,000 homes by 2020, and said London would receive an additional £1.7bn to deliver 26,000 affordable homes.
He also announced a funding scheme to build 215,000 homes in the West Midlands, while local authorities would be invited to bid for parcels of £840m-worth of government cash to deliver transport initiatives.