House builder adds Brexit continues to sap confidence in the capital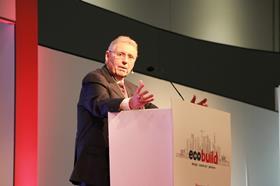 One Blackfriars developer Berkeley Group has said full year profits next year will be around a third lower than the bumper set of numbers it turned in this time around.
The house builder reported a 15% rise in pre-tax profit for the year ending April 2018, up to £934.9m for the period compared to last year. Revenues fell slightly to £2.70bn from £2.73bn.
But its chief executive Rob Perrins said the profit was "a consequence of Berkeley's operating model and the sites it enabled Berkeley to acquire in the period from 2010 to 2013".
He added: "They represent a peak for Berkeley with profitability returning to more normal levels from 2018/19, when profits are anticipated to be around 30% lower."
The London-focused firm, which is close to completing the Ian Simpson-designed luxury residential scheme at One Blackfriars in Southwark, said house prices in London fell for the first time since 2009 as Brexit-related uncertainty and slow wage growth took their toll on property prices.
Tony Pidgley, Berkeley's chairman (pictured), said: "It is telling that some funders and builders are choosing to exit the [London] market when faced with the degree of risk and regulation that now confronts development in the capital where macro and political uncertainty, including Brexit, are leading to this caution.
"This is a great shame as London is a fantastic world-class city with unique attributes that will last long beyond the current hiatus which is only exacerbating the well documented under-supply."
And Perrins said the firm was worried about who would carry out work on sites once the UK leaves the EU. "We remain concerned that the impact of recognised skills gap in the UK construction workforce may become more pronounced as the UK exits the European Union. While this is hard to predict, it is a fact that over half of London's site labour comes from the EU. This needs to be addressed by a combination of continued access to EU labour, skills training and innovation in construction if the industry is to achieve its medium-term production aspirations."
Yesterday the latest figures from the Office of National Statistics showed that one third of workers on London sites were from overseas with 28% coming from the EU.
The firm, which is also behind plans to demolish three of the gasholders next to Oval cricket ground and build a block of flats in the centre of a fourth as part of a 700 homes-plus development, said it is eyeing more work in Birmingham through its St Joseph brand and has begun work on its first modular factory in Ebbsfleet, Kent. Production is set to start in spring 2020.