Gleeds-led report says design could also be used to reduce staff stress and reduce reoffending rates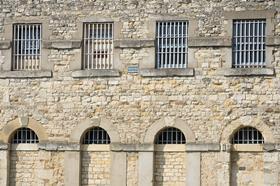 A report spearheaded by Gleeds says that better designed prisons could reduce assaults on staff by more than half.
Called Rehabilitation by Design, the 140-page document says that as well as reducing attacks on prison officers, better layouts will also reduce staff stress and help cut reoffending rates.
Launched this week at a House of Commons reception, the report says just under half of all adult prisoners are likely to reoffend within one year of release, at a cost to the tax payer of £13bn a year.
Richard Steer, chairman of Gleeds, said: "Speaking as a cost and project management consultant, the thought of reducing the vast sums invested by society every year to imprison those who reoffend and are unable to get off the merry-go-round of crime seemed economically as well as morally appropriate for our time."
The report has been produced ahead of a £1.3bn prison building programme planned by the Ministry of Justice. At last week's Conservative Party conference, justice secretary Liz Truss promised the work would "sweep away our decaying Victorian jails and put in place new, modern prisons".
Truss said she will set out government plans in the coming weeks, with new legislation promised early next year.
Steer said the new prisons programme was a "rare" chance to get things right and added: "We do not want to waste the opportunity by building new [prisons] that act simply as repositories for those society wants to forget.
"It is becoming increasingly clear that these relics from the past are no longer fit for purpose," he said. "But I strongly believe they should not be replaced with modern substitutes that, while newer and shinier, move us no further forward in terms of their overall purpose. A truly great building can be used to educate, inform and improve."
Among the recommendations the report makes is building smaller prisons, which would enable the buildings to be better located, meaning greater accessibility for visits from offenders' families.
The information was compiled by a panel of criminologists and psychologists, including prison design expert Professor Yvonne Jewkes from the University of Brighton, with input from charities, prisoners, victims and prison managers.
The government has sold off part of its estate in recent years to save on running costs.
Prisons offloaded include HMP Kingston in Portsmouth, and HMP Gloucester.