The Foster + Partners-designed scheme is due to be completed in 2023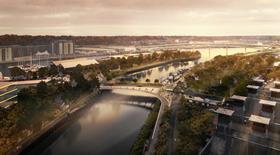 Suffolk County Council has begun the search for a contractor to deliver a £90m bridge project.
The Upper Orwell Crossings project is a major bridge infrastructure project located in the centre of Ipswich.
The project includes the construction of two new bridges and refurbishment of a third, which have all been designed by Foster + Partners.
The practice beat Wilkinson Eyre, Knight Architects, a team featuring Canadian practice Adamson Associates, the executive architect on the Shard, and William Matthews – the man who helped design the tower while at Renzo Piano – and a lone bid by French practice Marc Mimram which is based in Paris, in a competition run by RIBA last year.
The project is being tendered as an Early Contractor Involvement design and build contract, meaning the appointed main contractor will be involved in the technical design process.
Crossing A will be a new road crossing to the south of the city's Wet Dock Island, which will connect the east and west banks.
This crossing will be for all road users, including cyclists and pedestrians as a single carriageway bridge spanning the River Orwell.
Crossing B is a new road crossing of the new cut, which will connect the west bank to Wet Dock Island. This will also be for all road users, including cyclists and pedestrians, as a single carriageway bridge between Felaw St and the Island Site.
Crossing C is an existing swing bridge over the Prince Philip Lock, connect the east bank to Wet Dock Island, which is to be refurbished for cyclists and pedestrians only.
When Foster + Partners was awarded the job last March the project cost was estimated to be £77m, but the contract notice, published on the Official Journal today, listed the value at £90m.
Contractors have until 29 June to register their interest, with the council set to issue invitations to tender on 27 July.
The council intends to shortlist a minimum of five and a maximum of eight bidders, according to the contract notice.
Construction work is expected to start in 2020 and wrap up by the end of 2023.