Football up against Formula One racing for a home at the Olympic park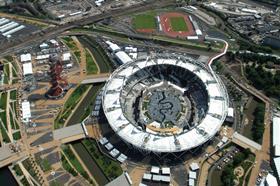 Football clubs West Ham and Leyton Orient will go up against Formula One racing for the right to occupy the Olympic Stadium after this summer's games, it was announced today.
Following a board meeting today, the London Legacy Development Corporation (LLDC)announced that it had received four bids for the stadium, included one each from the football clubs, and one from Formula One in association with Intelligent Transport Services.
It was unclear the precise nature of Formula One's plans for the stadium.
In addition the University College of Football Business (UCFB), has also made a bid to run the stadium.
At the same time the Legacy Corporation confirmed, as expected, that it approved the iCity bid to run the media centre following the Games which could create more than 4,000 jobs. It was revealed this morning that the iCity bid, made by data storage provider Infinity, is backed by property developer Delancey.
Gavin Poole, chief executive of iCity, said he was "delighted" that his bid had been selected as sole preferred bidder for the legacy use of the Press and Broadcast Centres.
He said: "iCITY will provide a sustainable legacy for the local community through the creation of thousands of jobs, apprenticeships and training opportunities.
"The incredible track record of start-ups and entrepreneurs in east London is growing at an impressive rate, and this is a chance to provide additional connectivity, capacity, investment and highly advanced infrastructure. I am hugely excited that work can now begin on turning that vision into a reality."
After the Games the Broadcast Centre will offer 95,000 sq ft of office space over five floors and 575,000 sq ft of commercial space over two floors. The five storey Press Centre will provide around 317,000 sq ft of office space with the potential for retail uses on the ground floor.
In addition the board today selected a developer for the 800-home Chobham Manor site, the first of the five post-Olympics neighbourhoods to be put out to tender.
However, under Ojeu tender rules bidders are allowed 10 days to accept, decline or challenge the offer before it is made public, and the LLDC declined to name the successful bidder until the "stand-still" period is completed.
In March three bidders were shortlisted for the work: East Thames and Countryside Properties; Barratt Homes and Le Frak Organisation; and Taylor Wimpey and London & Quadrant
Mayor of London, Boris Johnson, said: "London couldn't be in a better position to stage the best Games ever with everything ready to go and our legacy plans in great shape.
"With the future for six out of the eight Olympic Park facilities are already secured, it is now particularly encouraging to see on top of that a substantial bid for the Press and Broadcast Centres that we hope will act as a spring board for major job creation and new opportunities for local people. "
"No other host city has been this far advanced with its legacy planning before even the first starting gun has been fired."