Analysis shows UK's biggest contractors now have an aggregate net debt of £328m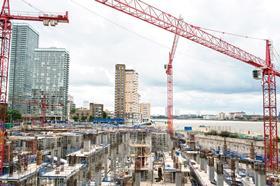 The aggregate cash positions of the six biggest UK contractors have fallen into a net debt following a year in which £400m has been sucked from their businesses.
An analysis by Building of the net cash position of six of the biggest listed UK contractors - Balfour Beatty, Carillion, Kier, Morgan Sindall, Interserve and Costain - shows that at the end of 2013 the firms showed a combined net debt of £328m on their balance sheets, compared with net cash of £71m
in 2012 (see table below).
This further compares with net cash in the bank for the six firms of almost £700m at the end of 2011.The firms together earned an aggregate turnover of £19.2bn in 2013. Net cash is a measure of a company's cash minus its borrowings, and is seen as important because when a firm falls into net debt, its interest payments will outweigh the interest it earns.
Contracting is usually a strongly cash generating business because of the advances contractors receive, but when revenue falls cash is sucked out of businesses in order to pay the supply chain for existing contracts.
We're at a dangerous point, where you need more working capital to grow and contractors will need to borrow more

Tony Williams, Building Value
Of the six only Morgan Sindall and Costain are in a positive cash position.
The analysis comes amidst growing pressure upon contractors to pay their suppliers more quickly, something that will put further pressure on cash reserves.
Last week analyst Liberum said that, if implemented fully, the effect of the payment charter launched in April by chief construction adviser Peter Hansford, would be to reduce working capital at the same six contractors by a further £288m, which could trigger a series of rights issues.
Liberum estimates this will have the biggest impact upon Balfour Beatty, Carillion and Interserve, who it estimates are currently the slowest to pay suppliers.
It estimates Balfour Beatty will see a reduction in working capital of £110m by implementing the fair payment charter, Carillion £68m and Interserve £34m.
Carillion said Liberum's analysis "significantly" over estimated its current payment times.
Liberum analyst Joe Brent said that contractors would have to raise margins in order to counter this trend.
Tony Williams, analyst at Building Value, said: "I'm not surprised at the movement [in net debt].
"We're at a dangerous point in the cycle, where you need more working capital to grow and contractors will need to borrow more.
"Eventually that should equalise out as they take the profit on increased workloads.
"But the level of debt will rise over the next 12 months and top out around this point next year, before starting to fall."
Building's analysis was carried out using year-end figures for the contractors to December 2013, with the exception of Kier, where half-year figures to December 2013 were used.

To read the full news analysis click here.

Net Cash (£m)
Balfour Beatty -66
Carillion -215
Kier -138
Morgan Sindall 70
Interserve -37
Costain 58
Total -328

To read the full news analysis click here.