Four in 10 say benefits of the process are exaggerated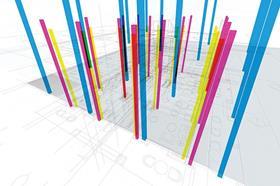 Enthusiasm for BIM is on the slide with many in the industry saying the initiative is overhyped, according to Building's latest annual BIM survey.
The number of respondents who said they planned to use BIM level 2 on their schemes fell slightly to 70% - down from the 73% recorded in 2016.
But 40% said the benefit of using BIM has been exaggerated, an increase on the 34% last year while the number of people admitting they did not derive any benefits from BIM edging up from 10% last time to 12%.
Last year, government rules about using BIM level 2 on all public sector schemes came into force but the number of respondents who said they were using the version actually declined by a percentage point to 43%.
But Mark Bew, who heads up the government's Digital Built Britain programme and is chair of consultant PCSG, said he wasn't worried by so-called BIM fatigue.
"People who don't start learning will be left behind," he added. "You will always have people who don't want to jump because they believe they can make a profit without BIM but that won't be the case for much longer."
And Edónis Jesus, BIM lead at Lendlease, said more emphasis needed to be given to educating people about the wider benefits of BIM.
She said: "I think major education needs to be done. On a daily basis, I come across people who think BIM is just a tool, but the full benefits are in using the technology to reduce project risk, time and cost and increase quality."
The results of the survey come as calls grow to embrace the use of Artificial Intelligence (AI) in the industry with Mark Farmer, the author of last year's government report into the future of construction, repeating that the industry needs to move away from traditional methods of working and embrace initiatives such as BIM and AI.
"Construction is one of the least digitalised sectors in the economy despite its huge contribution to UK GDP," he added. "The effectiveness of modern methods of building, such as digitally-led pre-manufacturing, and the use of BIM as we currently know it, both stand to be significantly and positively disrupted by the applied introduction of AI into the design, manufacture and construction process."
A report from Mace this week suggested that technology such as robotics could replace up to 600,000 construction jobs over the next two decades. In the autumn budget later this month chancellor Philip Hammond is expected to promise more cash for research and development into sectors like AI and robotics.