Contractor Bam has won the regeneration scheme's second building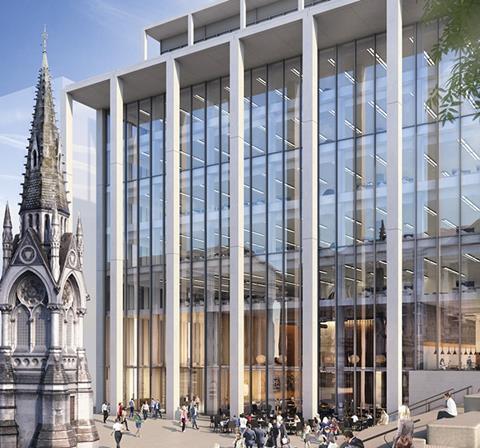 The investors behind the 1.8 million sq ft regeneration scheme Paradise in Birmingham are pushing forward with the £500m first phase after appointing Bam to build the second commercial building.
Two Chamberlain Square designed by Glenn Howells Architects will provide 183,000 sq ft of speculative office space over seven stories when complete in 2019. The enabling and infrastructure work the building is underway with piling for the foundations currently being drilled.
Bam will begin construction of the building itself in September this year following the completion of two levels of basement.
The first phase comprising 350,000 sq ft of office space across two buildings and public realm enhancement of Chamberlain Square had previously been scheduled to complete by the end of 2018.
Carillion bagged the job to build the 172,000 sq ft first building One Chamberlain Square designed by Eric Parry last summer after the first phase won planning permission in September 2015. The contractor is expected to complete the building in autumn 2018.
The scheme is being delivered by a joint venture between investors Hermes Investment Management and Canada Pension Plan Investment Board (CPPIB), which invests on behalf of 18 million Canada Pension Plan contributors and beneficiaries, and Birmingham City council. Kings Cross developer Argent is the development manager for the project.
When complete, the overall Paradise development will comprise 1.8 million sq ft of offices, shops, cafes, restaurants and a hotel in up to ten buildings in Birmingham's civic and historical centre.
Chris Taylor, head of private markets at Hermes Investment Management, said: "Our confidence in Birmingham is such that we are pushing ahead with the speculative development of Two Chamberlain Square."
Argent's regional director Rob Groves said: "BAM has a fantastic track record, which we've experienced first-hand at Brindleyplace and King's Cross. In this case we were really impressed with the team's understanding of the unique constraints of the Paradise site which is vital to the successful delivery of Two Chamberlain Square.
Rod Stiles, regional director for BAM Construction in the Midlands, said: "The confidence to move ahead with prestigious new offices at Two Chamberlain Square is a truly positive sign for the region's economy.
"Argent and BAM started our industry leading partnership in 1994 with the first new building at Brindleyplace in Birmingham and have now delivered over 30 iconic and award winning buildings together."