Victims' groups all settle, averting full High Court hearing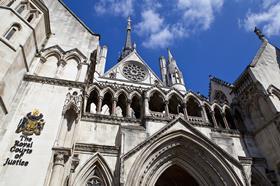 Victims of blacklisting have been awarded over £25m in compensation by contractors, averting a full High Court hearing that had been due to begin next month, according to construction unions.
The settlements were agreed between four victims groups represented by Unite, Ucatt, the GMB and the Blacklist Support Group and eight contractors known as the Macfarlanes Defendants.
Unite, Ucatt and the GMB have all put a figure on the total pay-outs they secured - Unite says it won £10.4m for 256 victims, Ucatt £8.9m for 156 cases, and the GMB £5.4m for 116 workers. The Blacklist Support Group has not disclosed its compensation package.
The unions also claim legal costs on both sides hit £25m, taking the total bill for contractors to around £75m.
The Macfarlanes Defendants - Balfour Beatty, Carillion, Costain, Kier, Laing O'Rourke, Sir Robert McAlpine, Skanska UK and Vinci - confirmed they had reached settlements with the groups but declined to comment on the settlement amounts or the claimed legal costs. In total the Macfarlanes Defendants represented 30 group companies and four individuals.
The settlements bring an end to a three-year High Court battle, which began in 2013 with 86 workers from the Blacklist Support Group, with numbers later swelling to over 700 claimants.
Unite and the Macfarlanes Defendants said all parties had agreed to read a joint statement in court as part of the settlement. Victims' group the Blacklist Support Group said this will happen tomorrow (11 May).
Four further firms not represented by Macfarlanes in the case - Cleveland Bridge, Amec, Bam and Lendlease - are thought to have settled all their claims. Bam and Lendlease confirmed they had settled their cases, Amec declined to comment and Cleveland Bridge has been contacted for comment.
The victims' groups hailed the settlements, but Unite and the Blacklist Support Group repeated their calls for a full public inquiry into blacklisting. The Blacklist Support Group said: "It was the hard work and tenacity of rank & file activists that has brought [blacklisting] into the political discourse. What has already been achieved is a massive victory for the trade union movement but the fight is not over yet."
Unite general secretary Len McCluskey said: "The sums to be paid out go a considerable way to acknowledge the hurt, suffering and loss of income our members and their families have been through over many years. Under the agreement they can once more apply for jobs in the construction industry without fear of discrimination".
In its statement the Macfarlanes Defendants said: "These construction companies wish to draw a line under this matter and continue to work together with the trade unions at national, regional and site level to ensure that the modern UK construction industry provides the highest standards of employment and HR practice for its workforce."