Campaign group hail "breakthrough" as blacklisting victims given 'core participant' status in Pitchford Inquiry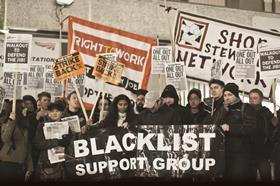 Blacklisting victims have been added as a 'core participant' in a major public inquiry into undercover policing.
The Blacklist Support Group (BSG) - which campaigns for compensation for those effected by the scandal, uncovered in 2009 - described the news as a "breakthrough" in their battle to uncover the extent of police corroboration with contractors in the compilation of a blacklist of over 3,200 workers.
The BSG said their solicitors, Imran Khan & Partners, had received a letter from the Pitchford public inquiry into undercover policing confirming they had been granted core particpant status.
Core participant status gives the blacklisted workers access to all evidence generated, and the state will cover the cost of legal representation throughout the public inquiry.
Other core participants in the inquiry include the Lawrence family, activists who suffered sexual and emotional abuse, environmental & anti-racist activists and families campaigning for justice for their murdered loved ones.
The first full session of the Pitchford inquiry is tomorrow (Wednesday) at the High Court in London. The inquiry is expected to last three years.