University determined to rebuild £16m chemistry lab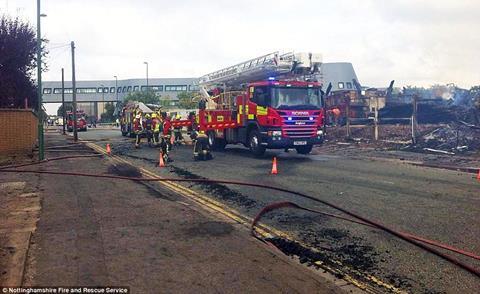 Morgan Sindall's under-construction £16m laboratory building for Nottingham University burnt to the ground overnight on Friday.
The external structure of the Carbon Neutral Laboratory for Sustainable Chemistry building was largely completed and it was due to open next year, before the fire, but it has now been largely destroyed.
A spokesperson for Morgan Sindall said: "Everyone on the project team has been working hard to deliver this state-of-the-art low carbon laboratory for the university and we are of course greatly saddened to see the devastation caused by the fire.
"We are supporting the fire service investigation into the cause of the incident and thank its officers for their efforts last night to tackle and contain the blaze."
A Nottingham university spokesperson told the Nottingham Post that it "maintains its commitment to a carbon neutral green chemistry laboratory.
The spokesperson added: "We are considering this to be a setback to our plans, there is a determination to re-build but at this stage it is far too early to say whether this will be on the same site, how much it might cost and when we could expect to see that facility open.
"There will need to be detailed discussions with our partner GSK and the contractors who have worked on the project."