Market sources suggest steelwork contractor Severfield not in the firing line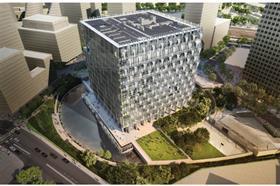 A number of steel bolts are having to be replaced on the under-construction £650m US Embassy project, main contractor Sir Robert McAlpine has said.
In a statement Sir Robert McAlpine said "some bolts are being replaced", but it said this would "not affect the overall project schedule at all."
Sir Robert McAlpine's steel subcontractor on the scheme, Severfield, has previously faced a multi-million pound bill for replacing steel bolts on the Cheesegrater tower scheme in central London - built by Laing O'Rourke - after some of the 'mega bolts' were found to have material defects.
But a source close to the project said the US Embassy bolts replacement works were expected to have "no significant financial impact" on Severfield and added the firm was not thought to be at fault for the issue.
Sir Robert McAlpine is delivering the project in joint ventrue with US builder BL Harbert.
Severfield declined to comment.