Mayor gives go-ahead to Farrells' controversial £1bn Convoys Wharf scheme by the river at Deptford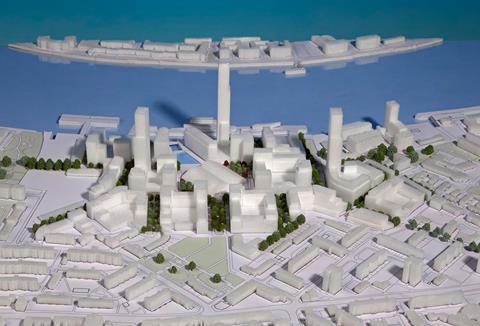 Mayor of London Boris Johnson has given the go-ahead to Farrells' £1bn Convoys Wharf scheme by the river at Deptford.
Johnson granted planning approval subject to a section 106 agreement, which requires City Hall planners to meet with Lewisham council and the developer, Hutchison Whampoa, to come up with a workable alternative scheme for the historic Sayes Court Garden site.
The 16.6ha plot includes the site of John Evelyn's 17th-century Sayes Court Garden and one of Henry VIII's naval dockyards where the Lenox warship was built.
Local campaigners, working with David Kohn Architects, have been trying to persuade the developer to incorporate these into a more imaginative scheme. Last year the World Monuments Fund placed Convoys Wharf on its watch list.
Johnson made the controversial decision to become the planning authority in October after Hutchison Whampoa complained that the council was taking too long. Lewisham blamed the developer for the delays. Earlier this year, Lewisham advised him to reject the scheme unless Hutchison made major changes.
Johnson said today: "We need to build thousands of new homes in the capital and proposals to do that at Convoys Wharf have stalled for far too long. I am pleased that we have been able to work on a scheme that will have enormous social and economic benefits for local people while preserving the heritage aspects of the site."
The Farrell masterplan includes 3,500 homes in three towers, just 525 of them "affordable".
Johnson said the developer must fund a feasibility study into the Build the Lenox project to reconstruct the warship. Hutchison Whampoa must also build a community hub linked to Sayes Court Garden, with a new primary school included at the heart of the site.
Convoys Wharf's recent history dates back to 2002 Richard Rogers was appointed to draw up a plan for 3,500 homes for News International.
Hong Kong-based Hutchison Whampoa bought the site in 2008 and appointed Aedas to redraw the plans.
These attracted so much criticism that Aedas was replaced by Farrells last year.
Johnson has also taken over planning powers at another significant London site: Mount Pleasant near King's Cross.
This story first appeared on Building Design.