Bank would offer funding to developers of large schemes stalled by funding issues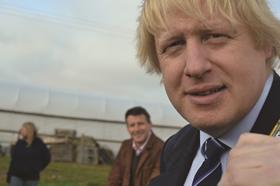 Boris Johnson has launched plans for a new "housing bank" which could provide £200m of cheap loans to accelerate housebuilding in the capital.
The bank would offer funding to developers of large-scale schemes which already have planning consent but are stalled by funding issues.
The Mayor of London's office said an estimated 3,000 homes could be built with the loans.
These homes would then be let to Londoners at sub-market levels for 10 years, before being sold on with the loan repaid to City Hall.
The Mayor of London said: "We're doing everything we can to double housebuilding across the capital and address a 30 year failure to build enough homes for this thriving city.
"The proposed London housing bank is just one of several highly innovate new schemes we are pioneering here at City Hall to help meet the needs of hard working Londoners."
A consultation on the proposals launched today, with responses due by 21 May.
Research conducted by City Hall suggests that planning consents have been granted for around 200,000 homes in London which have not yet been built.
Last week the London Assembly passed the Mayor's new housing strategy, which aims to build at least 42,000 homes a year in the capital.