Mayor of London delivered 54,000 homes in first term but is accused of a "shameful whitewash" by Labour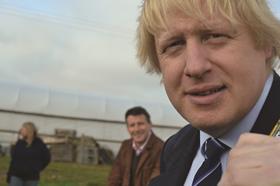 Mayor of London Boris Johnson is on track to deliver 100,000 affordable homes by 2015, he has claimed.
The mayor's office released new figures today showing a 50,000 target for Johnson's first term had been exceeded.
More than 54,000 homes were built over the four-year period while figures from the Homes & Communities Agency showed 16,000 homes were delivered in London in the past year, 4,000 homes above the mayor's annual target.
Johnson said he had successfully lobbied for new powers from central government to drive housing delivery including taking over the HCA's powers in the capital in April under the Localism Act.
He said: "The hard work is by no means over but despite some of the most challenging economic conditions for decades we have delivered more than 54,000 affordable homes over the past four years.
"By 2015 we will have delivered over 100,000 affordable homes for London, which will give a vital boost for jobs and the wider economy, as well as providing decent places that people actually want to live in."
But Nicky Gavron, Labour's housing spokeswoman at City Hall, described the announcement as a whitewash.
"In 2008 a Labour Mayor negotiated a record £5 billion housing investment budget from a Labour Government to build 50,000 new affordable homes in London by April 2011," she said. "Boris Johnson promised to deliver this but fell 10,000 homes short, and was forced to delay this deadline by a year. While Londoners continue to feel the impact of the housing crisis, to claim he has exceeded this pledge is shameful."
"To build these 50,000 affordable homes, the mayor has raided half the funding for his new programme and passed the burden of funding onto housing associations. They will be forced to borrow excessively to meet this new target. We are deeply worried this will lead to higher rents."
Last month the mayor announced he had appointed a new board - Homes for London - to oversee the investment of the GLA's housing budget and to help maximise the potential of newly acquired land assets.
The mayor has a budget for housing of £3bn in the period between 2011 and 2015.