Mayor of London says there are three 'optimal locations' for a new hub airport to replace Heathrow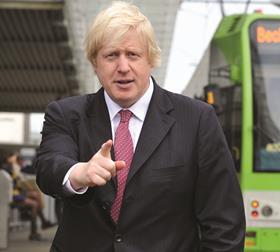 Boris Johnson has said there are three options for a new hub airport in the South-east and that Heathrow should be bulldozed to make way for a 100,000 new homes.
Presenting the findings of Transport for London's report into airport capacity in London and the South-east, the Mayor of London said there were three "optimal locations" for a new airport: to replace Heathrow on the Isle of Grain in north Kent; at Stansted; or on an artificial island in the middle of the Thames estuary.
According to the report, only a four-runway hub airport would allow London to reach the emerging markets of the world.
It would potentially quadruple the number of destinations London serves in China and South America, destinations which can currently only be reached from the UK by travelling through rival hubs in Europe, and add another fifty per cent more destinations in the United States.
The mayor said he would be submitting detailed proposals for all three sites to the Davies Commission, set up by the government to examine the issue of airport capacity, later in the week.
Johnson also said that Heathrow should be closed and turned into a housing development, with the space and infrastructure for 100,000 new homes
He said the scale would be similar to developing a new borough of London, with a population of around 250,000, with the potential to create tens of thousands of jobs. He said Heathrow workers would either relocate to the new hub airport, or find work in the new Heathrow neighbourhood.
Johnson said the new hub airport would support more than 375,000 new jobs by 2050 and add £742bn to the value of goods and services produced in the UK.
Johnson said: "Ambitious cities all over the world are already stealing a march on us and putting themselves in a position to eat London's breakfast, lunch and dinner by constructing mega airports that plug them directly into the global supply chains that we need to be part of.
"Those cities have moved heaven and earth to locate their airports away from their major centres of population, in areas where they have been able to build airports with four runways or more.
"For London and the wider UK to remain competitive we have to build an airport capable of emulating that scale of growth. Anyone who believes there would be the space to do that at Heathrow, which already blights the lives of hundreds of thousands of Londoners, is quite simply crackers."