London mayor unveils a new set of standards for HGV transport in a bid to tackle cycling deaths and injuries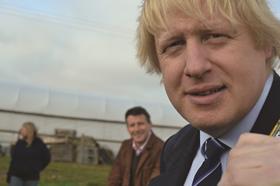 London mayor Boris Johnson today praised the construction industry for its efforts to tackle cycling deaths and injuries as he set out a new set of standards for HGV transport.
Speaking this morning at an event at City Hall organised before the series of tragic deaths on the capital's roads last month, Johnson launched a new set of standards for transport in the industry which, according to the mayor's office, "will ensure that safety considerations no longer end at the construction site boundary but extend to all parts of the construction process".
Firms attending today's 'construction logistics and cycle safety event' included Laing O'Rourke and Mace.
The standards, which have the support of Crossrail as well as Transport for London and the Greater London Authority, have been developed by a number of London-based developers and build on previous work done by the Cycle 2 Cannes charity.
Transport for London also announced it will be trialling a new Laing O'Rourke lorry with "vastly improved" driver visibility and safety equipment.
The vehicle, which will be used to transport commercial waste away from Crossrail schemes, boasts a cab with larger front and side windows, significantly reducing the blind spot compared to similar vehicles.
TfL hopes to identify other models with such good driver visibility and intendes to press manufacturers to adopt these designs.
So far this year, 14 cyclists have been killed on London's roads with six of these deaths occurring in November and nine of these accidents involving HGVs.
"The role of lorries in cycle accidents is well known now – roughly half of all fatalities involve HGVs, though they are only four per cent of the traffic," Johnson said today.
"I'm very grateful to all those from the industry who pledged to help us tackle this issue and the new construction industry safety standard we are launching is a real step forward and will help save vulnerable users, cyclists and pedestrians, from harm."
London's transport commissioner Sir Peter Hendy said: "The hard work and determination of the construction industry to raise standards across the board is both admirable and to be applauded.
"London is leading the UK in targeting unsafe freight vehicles and, working with the industry, we will continue to drive out poor and dangerous behaviour, and improve standards, to make our roads safer for all road users.
"Today's announcement of an industry-led road safety standard is something I fully endorse and call on the rest of the construction industry, whether they are based in London or elsewhere in the UK, to do the same."
Director of the UK Contractors Group, Stephen Ratcliffe, said the group's members supported the standards and take cycling safety "very seriously".
He added: "London is a key flashpoint on cycling issues and the support from the Mayor and TfL has been invaluable. Moving forward the aim must be to improve the safety of vulnerable road users right across the UK".