Mayor of London urges government to give him new posers to to take control of public land in the capital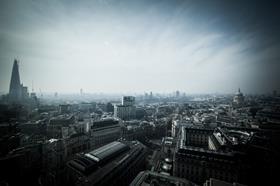 The mayor of London is making a bid for significant new powers to take control of public land in the capital.
Boris Johnson is calling on the government to allow him to make the "land grab" so he can tackle the housing crisis despite coming under fire for his record on affordability.
He wants to extend the Infrastructure Bill, which is currently going through Parliament, to include the capital.
This would allow the Greater London Authority to seize land owned by all public bodies in London, such as NHS trusts, in order to sell it off for housing.
Currently the Infrastructure Bill gives that power to the Homes and Communities Agency but excludes the capital because the HCA's powers in the capital were devolved to the GLA by the Localism Act in 2011.
Speaking at the groundbreaking ceremony for the £117m redevelopment of Catford's former dog track by Witherford Watson Mann and Mae Architects, Johnson said: "This is a fantastic opportunity for us to work with the government and unlock the potential of the many empty and unused sites across the capital.
"Rapid redevelopment, regeneration and most importantly thousands of new homes for Londoners could be just around the corner given the necessary fast-tracking powers. Dramatic transformations, like the one we are witnessing in Catford today, would be possible all over the city."
According to Nationwide, the ratio between first time buyers' earnings and house prices in London rose to 8.8 this summer, the greatest disparity yet.