HCA lodges plans for the 'heart' of Northstowe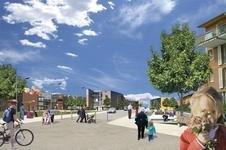 The Homes and Communities Agency (HCA) has submitted plans for the 3,500-home second phase of its planned new Northstowe town development outside Cambridge.
The submitted plans include the proposed town centre, employment and recreational facilities, a secondary school and two primary schools.
Northstowe, which once complete will deliver 10,000 homes, is the largest new planned town since Milton Keynes, according to the HCA.
The first phase for 1,500 homes, a primary school, a sports hub, shops, community uses and a recycling centre won planning approval in April of this year.
Preparatory work has started on the first phase and homes could be sold and occupied as early as spring 2016.
Paul Kitson, senior project manager at the HCA for Northstowe, said: "Things are definitely happening at Northstowe. We want to make sure the foundations are laid for a solid community to develop. As part of this we have adopted a 'phased' approach to development where facilities and road improvements are built hand-in-hand at each stage with new homes.
"The outline plans submitted today are further proof of that and, if approved, we look forward to working with local communities to develop further details to these outline plans."