London mayor says he will only back Feilden Clegg's £120m redevelopment of Southbank Centre if skateboarders' existing area is retained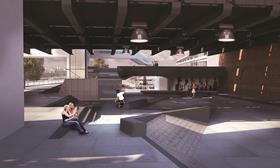 Revised plans for a £120m redevelopment of London's Southbank Centre drawn up by Feilden Clegg Bradley Studios have hit a fresh hurdle after Boris Johnson said he was opposed to relocating the area's skate park.
One of the controversial scheme's most contentious aspects is its scrapping of the concrete undercroft skaters have used for decades and its replacement with a new skating area 120m up-river under Hungerford Bridge.
The replacement scheme involves designer SNE Architects, masterplanner Rick Mather Architects, cost consultant Gardiner & Theobald and project manager Arup.
The Southbank Centre's artistic director Jude Kelly has previously warned that retaining the undercroft for the skating community is commercially unviable and said they would have to raise £17m to cover the amount lost in retail revenue and financing.
But today, Johnson said he would only support the redevelopment plans if the existing skate park is retained.
He said: ""I wholeheartedly support the principle of enhancing the world-class cultural facilities at the Southbank Centre and am encouraged by many of the aspects of their plans.
"However, redevelopment should not be at the detriment of the skate park which should be retained in its current position.
"The skate park is the epicentre of UK skateboarding and is part of the cultural fabric of London. This much-loved community space has been used by thousands of young people over the years. It attracts tourists from across the world and undoubtedly adds to the vibrancy of the area - it helps to make London the great city it is."
The planning application to redevelop the Southbank Centre will eventually be considered by Lambeth council before it is referred back to the mayor.
In a statement, the Southbank Centre said: "We are surprised by the Mayor's unexpected statement. We look forward to hearing how he intends to fill the financial gap that now stands between us and our ability to provide free art and culture to millions of Londoners.
"In the meantime the Southbank Centre Board must consider the implications for the future of the project if he fails to do so."