Maria Miller speaks out after Boris Johnson's intervention threw plans into doubt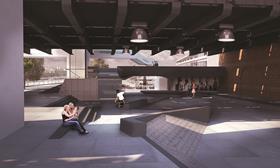 Culture Secretary Maria Miller has praised the Southbank Centre for the way it has dealt with opponents of its £120m redevelopment plans.
Miller's intervention comes after Boris Johnson hit out at the plans last week over the proposal to relocate the skating site.
Speaking to Building's sister title Building Design, about the mayor of London's intervention, she said: "The Southbank Centre has handled that whole episode extremely well."
Miller's support comes at a critical moment for the Feilden Clegg Bradley Studios scheme, which is due to go before Lambeth's planning committee next month.
Mayor Boris Johnson, who will then make the final decision on the project, dealt it a major blow on Thursday when he declared his support for the campaign to keep skateboarding on the site.
Under FCBS's proposals, the undercroft used by the skaters would become commercial space which artistic director Jude Kelly insists is crucial to the viability of the whole project.
Following extensive consultation during which the planning application was temporarily suspended, the skateboarders would be moved 120m upstream to a site designed by SNE and Rick Mather Architects.
Miller went on to say: "Making sure the local community and Southbank Centre co-exist is important because they are good for each other."
A spokeswoman for the Southbank Centre described her comments as "encouraging".
Last week Johnson said he approved of "many of the aspects" of the plan but added: "Redevelopment should not be at the detriment of the skate park which should be retained in its current position."
In December Boris's deputy Ed Lister praised the architects' "bright and fresh" ideas though he said there were details still to be worked out.