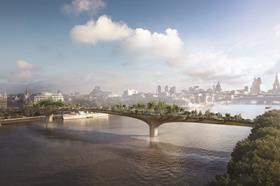 A Bouygues joint venture has been confirmed as preferred contractor to build London's Thomas Heatherwick-designed Garden Bridge.
Bouygues is in joint venture with Travaux Publics and Cimolai. The Garden Bridge is scheduled to complete in time to open in summer 2018, providing the timetable is not derailed by a forthcoming judicial review challenge against the project.
Arup is the project's engineer.
Anthony Marley, project director at client Garden Bridge Trust, said: "After receiving impressive and creative proposals from three strong teams, who showed a real passion and commitment to the scheme, we have informed them that we are now down to a shortlist of one.
"The Trust and its advisers felt Bouygues TP-Cimolai offer the best combination of engineering design, methodology, project team, track record, commitment to budget and appreciation of critical issues.
"We are delighted to be able to sit down with Bouygues TP-Cimolai to finalise formal terms and then proceed to a pre-construction programme of detailed design, planning and engagement with the neighbouring communities and local authorities on the details of construction operations."