The contractor has blamed the loss on 'challenging' market conditions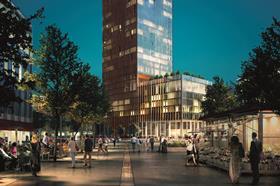 Bouygues UK has posted a pre-tax loss of £19.4m for last year which the company attributed to "ongoing challenging market conditions".
The results for the year ending 31 December 2015, however, reported a 5.7% increase in revenue to £350m, up from £331m for the previous year.
The news of the French contractor's loss comes a day after a dammning report by the National Audit Office over the financing of the Garden Bridge project which Bouygues, along with Italian steelwork contractor Cimolai, is hoping to build.
The firm won the contract last year but work is now not expected to start until next spring at the earliest – 18 months later than planned.
And earlier this year walked away from Great Ormond Street Hospital's £65m Centre for Research project, which it won last year, shortly after its chief executive Madani Sow suddenly stepped down. He was replaced by the French-owned company's overall deputy chief executive Lionel Christolomme.
But it has also had notable successes in the UK recently including the £1bn third phase at Battersea Power Station last year as well as the £42m regeneration of the Gascoigne Estate in Barking and £187m cancer hospital for University College London Hospitals NHS Foundation Trust.